In cyclocross, there are lots of decision to make around the gear and everybody seems to have an opinion. Disc brakes, cantilevers or v-brakes? Knee warmers or embrocation? 30 psi or 50 psi? Go for the dollar in the sand or fight to stay upright? It can make it tough to decide. Don't make a simple sport difficult and let us help you cut through the confusion.
Disc Brakes
Higher Gear head mechanic Fredo tells us that "disc brakes are where it's at" when it comes to cyclocross this season. In fact, you'd be hard pressed to find a 2014 or 2015 cyclocross bike that doesn't come standard with disc brakes. When we posted about disc brakes after the 2013 Cyclocross Nationals, they hadn't quite caught on in Europe, but were quickly growing in popularity among U.S. pros. Now, disc brakes are all over cyclocross courses.
Hydraulic Brakes
Speaking of braking, hydraulic brakes are back – and better than before. Back in June, SRAM launched their new hydraulic road brakes and they're ready for cyclocross season.
It's been stated, demonstrated, and proven but put simply SRAM's road hydraulic systems provide better braking control and performance in all conditions. For 2015 SRAM has four new complete hydraulic road (HydroR) groupsets featuring a broad complement of hydraulic braking options for both rim and disc brake bikes. Each delivering on the promise of braking confidence and security that brings speed control and stability to a new level.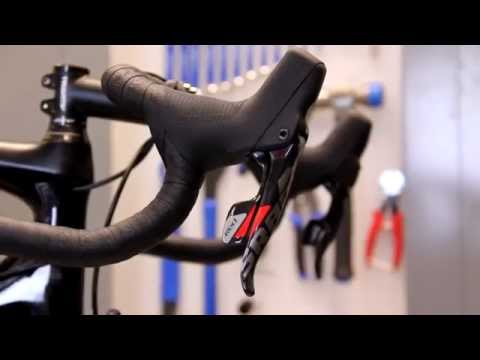 Cyclocross-specific Drivetrain
While we're on the subject of SRAM, their cyclocross-specific Force CX1 is the only true 1x dedicated cyclocross groupset. It was created by blending the best of SRAM's revolutionary XX1 mountain bike and road technologies.
Pro cyclist Danny Summerhill of K-Edge/Felt trusts SRAM Force CX1 for his races. "The best thing that I like about CX1 is just the simplicity of it and the fact that you can't drop your chain. I mean, that's how you win races: you don't have mechanicals."
Click here to learn more about SRAM Force CX1 >>
Tubeless Tires
Fredo tells us, "Not everybody is buying into tubeless tires, but it's catching on." Those who are converts wouldn't think about going back to tubes.
Higher Gear customer Dan Ephraim has been riding tubeless tires on his road bike. He tells us: "The ride is a lot more comfortable. You ride with lower air pressure. The ride is better. They offer great rolling resistance. They're as close to sew-ups as you can get."
Bonus, tubeless tires almost completely eliminate flats. Ephraim rides his bike from the north shore to work, which is down by Midway Airport. His route takes him through the west side of Chicago, where he said that avoiding flats is "prudent."
"I ride these streets with all sorts of junk on them… There's glass on the street. You try to go around it, but there's stuff you don't even see… I used to get flats, maybe one flat a week." Ephraim is impressed. "To this day, I have yet to get a flat… I went from one flat every week to riding this whole season without one flat – knock on wood!"
Learn more about how tubeless tires kept Ephraim flat free on his ride through South America. Get more information on going tubeless.
More Higher Gear Staff Picks for Cyclocross
Our staff provided more suggestions on what can make your lung-busting minutes on the CX course a tad bit better. Here are some of our staff picks for cyclocross gear:
Cyclocross-specific tires give you the traction you need to power through the mud and sand without allowing it to build up between knobs and slow you down. Fredo at Higher Gear recommends the Clement Crusade PDX, named after the the Cross Crusade in Portland Oregon, the largest participant cyclocross series in the World. Clement's Crusade PDX is an all-around performer with a particular love for mud. The center knobs are aligned to give you a fast roll on hard pack and pavement. Side knobs offer superior edge control so your bike stays under you in the curves, and the leading edge of the knob gives you extra traction coming out of corners. Since its introduction in 2010, the PDX has quickly become one of the most popular cross clinchers on the market.
Don't take our word on this one. Check out the video on Bike Radar on Clement tires.
Off-road pedals and cleats can mean the difference between having the power of your full pedal stroke and watching other cyclocross racers sprint past you for the finish – or the bacon, depending on where you are on the course! When mud gets in some cleats, you may not be able to clip back in to your pedal. For this reason, Higher Gear recommends Crank Brothers pedals for cyclocross riders. The Eggbeaters are a favorite for anyone who rides through muddy conditions. The uniformity of the pedal means riders aren't struggling to find the right position; it's a click and go. The sparseness of the pedal also means that mud easily clears the pedal, eliminating the risk of not being able to get back in. The Crank Brothers Candy adds a platform, making entry available from two sides but also making it possible to ride while being unclipped.
Higher Gear cyclocross jersey by Kalas not only makes a great gift but it also makes great sense for the Chicago cyclocross season. While the material feels thin and comfortably soft, it offers good wind protection for the "windy city." At the same time, our cyclocross jersey offers good ventilation and moisture transport which is important for 45 minutes of hard effort on the bike. The cut of the jersey also allows for increased upper body movement, so you won't have any issues (with your jersey) reaching up for a hand-up or reaching back into one of the three rear pockets. Our Gearheads love that the material dries fast and keeps its shape after repeated washing. This year, we're hedging our bets with the weather and stocking the jersey in both long and short sleeve options – so we've got you covered, no matter your preference.
Cycling glasses don't just protect your eyes from sunlight. Glasses also keep mud and sand from the course from getting in your eyes. They can be life-changing in the event of a crash, where shatter-proof lenses can keep your eyes safe. So, glasses aren't just for sunny conditions. For cycling in any conditions, Higher Gear favors transition lenses – lenses that change in sunlight. We carry Tifosi cycling glasses, both of which offer lenses that go from colorless to varying degrees of darkness. With the overcast Chicago winters, you'll benefit from the eye protection with the clear lenses but don't need to worry if the sun suddenly appears. The lenses will transition to protect your eyes from sunlight when needed.
Enzo's Embrocation can make the difference between enduring the cold and suffering miserably in it. Enzo's Oil and Embro Stick skin formulas act as a protective layer for you legs during wet and cold riding, running or racing. Athletes who compete in these weather conditions understand cold muscles hinder your power output. Embro and Oil Stick assures your muscles stay warmer, allowing for maximum wattage output, increasing performance. Enzo's offers two choices in embrocation: Embro Stick Orange is for temps ranging 40's to mid 50's and Embro Stick Red is for extreme cold conditions, low 40's to 30F. Red is for experienced embro users. Oil Stick is for wet and cool conditions, 56F and higher.
Chain Catchers/Deflectors can be another hot button issue for cx riders. Those who swear by them, love the added security of knowing that they will not drop a chain at a crucial moment on the course. This simple, inexpensive and lightweight piece can prevent the chain from jumping up or off the ring. For some, the choice is clear. If you're interested in learning more about chain deflectors, talk to our mechanics who can tell you which one will work best for your frame and your needs.
Note: with SRAM Force CX1 eliminates the need for a chain catcher by eliminating the risk of dropping a chain altogether. Read more about the only true 1x dedicated cyclocross groupset.
At Higher Gear, we'll eliminate some of the confusion for you. Come in and chat with our expert mechanics about what gear is best for you. Stop in to either Higher Gear location where our approachable experts can debate the merits of cx products and bikes with you and help you find the gear that's right for your season.
Want to know what else is knew for this cycling season? Check out our report from 2014 Interbike.