Remember the Banjo Brothers? It turns out that Banjo Eric is really stubborn. For years, he steadfastly refused to launch a a pannier that converts to a backpack into the Banjo Brothers line until the comfort and functionality were 1000% perfect. You, my friends, will be the benefactor of his dogged determination to build a better bag.
Meet the product of Banjo Eric's perfectionist tendencies:
The Banjo Brothers Convertible Waterproof Pannier Backpack
The 1,100 cubic inch convertible pannier backpack – or vice versa – was designed with serious bike commuters in mind. The roll-top waterproof pannier is built tough enough to withstand the elements in tough commuting climates, like Chicago winters.
The tapered profile works with a variety of racks up to 12MM in tube thickness. Reflective piping and flashy tab keep you visible and safe. Simple, adjustable rack hardware. A convenient outer flap pocket for quick access and two generously sized outer pockets.
The beauty of this design is that by simply unhooking the pannier flap and swinging it to the opposite side of the bag will reveal the backpack straps. Banjo fans will recognize the two prominent vertical reflective stripes down the flap. With the pannier hooks on the opposite side of the bag, the pack will be super comfortable for long-commutes and walking around off the bike.
Features
15.5″ H x 11.5″ L x 6.75″D, 1100 Cubic Inches
Two-layer design with ballistic outer layer and welded-seam liner that is fully replaceable
Included handle and two backpack straps
Outer quick-access flap pocket and two side pockets
Reflective piping and striping
Places for flashing lights on the pannier and backpack sides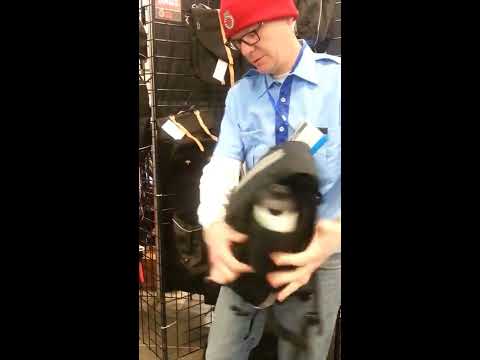 This compact pack is a commuter favorite. It has just enough space to fill all gear for a day's worth of client meetings. It fits both men and women its price makes it a tremendous value.
Come on in to Higher Gear and try on this perfect commuter bag.
Shop Higher Gear online now for Banjo Brothers cycling bags >>
Meet the duo behind the Banjo Brothers >>