In 2009, Bob Stapleton, then owner of Team HTC-Highroad Columbia, predicted that every high-end road bike would have electronic shifting "within three years…maybe sooner." Flash forward three years into the future. 2012. That prediction is now a reality.
We've seen electronic shifting on the pro's bikes at the tours the past few years. Still mostly available on high-end bikes, we're starting to see the technology trickle down. As the 2013 bikes roll in, we're seeing electronic shifting more widely available.
For 2013, Specialized offers electronic shifting on a few models, primarily but not exclusively in their S-Works range. The Venge, Specialized's aero road frame, is available in three options for electronic shifting components. At the top of the Venge line-up, the S-Works Venge comes with two options: Campagnolo's Super Record EPS, the lightest electronic shifting group available today, and the Pro Tour-proven Shimano Di2 electronic components. In the non-S-Works version of the Venge, the Venge Pro comes with New Ui2 electronic shifting – providing effortless, precise shifting at a great value.
Specialized's top of the line S-Works Tarmac SL4 and the S-Works Roubaix SL4 both are available with Di2. The Tarmac SL4 Expert is available with Ui2. In welcome news, Specialized also makes electronic shifting available on a women's specific bike, their Ruby Expert Ui2. Until now, women have had to choose either a men's bike or aftermarket components. Now women can get the best of both worlds.
SCOTT has several bikes available with electronic shifting for 2013. SCOTT's aero road frame, the Foil, has two options available with electronic shifting. Their top of the line Foil Premium comes with Shimano Di2. Their Foil 15 comes with Ui2 as does their top of the line CR1 Premium road bike.
Italian manufacturer Bianchi also has several options available with electronic shifting. Not surprisingly, they've paired their high end racing bike with the Italian Campagnolo's top of the line electric components. The Bianchi Oltre is available with Super Record EPS. At the performance end, there's the Bianchi Sempre and in the endurance catergory, there's the Bianchi Infinito – both available with Ultegra Di2.
We know that we now have options of stock bikes with electronic shifting. So where are we at with this technology? Shimano and Campagnolo both have strong entries in their electronic shifting technologies. Shimano has already made upgrades to their Di2, or Digital Integrated Intellence. Campagnolo was first to bring their electronic shifting – EPS or Electronic Power Shift – to market.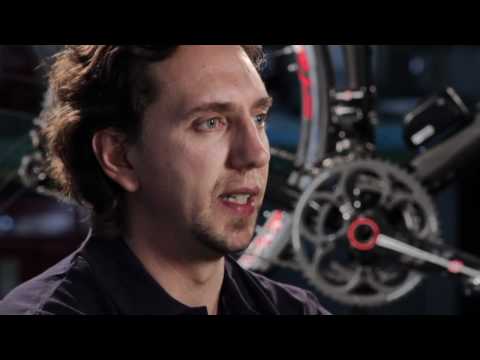 With the introduction of Athena at Interbike this year, Campagnolo now has three options for electronic shifting: Super Record EPS, Record EPS and Athena EPS. Their Super Record EPS is the lightest electronic shifting group available. Made from carbon and titanium, materials that offer unparalleled performance and lightness. Italian design transforms these materials into a thing of distinctive, exclusive beauty. Below is just some of the technology that goes into the Super Record EPS.
Zero Settings allows the system to learn the reference position of the chain on the crank and the chainrings so that it can calculate the proper position. One Lever-One Action means that each lever of the control has its own distinct function, allowing for absolute certainty, using the right control in all conditions and eliminating the risk of error. Multi-Dome  (5-Dome) Technology gives the levers that distinctive tactile and audible 'click.' It makes it possible to find the perfect balance between operating force and tactile shift feedback. This eliminates any unintentional shifting despite road conditions or user gear (like winter gloves).
Just as in their mechanical counterparts, the Record EPS and the Athena EPS offer identical functionality as the superior Super Record EPS. A lower price point is achieved by the use of less expensive and heavier materials, like aluminum alloy. However, Campy did not cut any corners on the lower end electronic motors or control unit. Record EPS and Athena EPS are designed to have the exact same feel and to perform as well as the more expensive Super Record EPS.
The guys at RoadBikeReview got to test out the newly released Campagnolo Athena EPS, their lowest price electronic shifting groupo. Amazed with its performance, they declared, "At this level and pricepoint, we can start to see the future is in electronic groupsets just as clearly as the guys and gals at Campagnolo."
As for Shimano's contribution to electronic shifting, its Di2 electronic technology promises instant, accurate shifts the first time, every time, at the push of a button. With Di2 technology, shifting is easier and more precise than with manual shifters. Just a light touch, as soft as a mouse click, is sufficient for the front or rear derailleur to instantaneously select the correct gear. Now Di2 has been upgraded so that it is also 11-speed compatible, with enhanced feedback and improved ergonomics for easier access to the shift buttons from the top of the hoods.
The biggest upgrades to Shimano's Dura-Ace Di2 9070 groupset are shifter ergonomics, the wiring assembly and shift programmability. Not only is this new system marginally lighter than Dura-Ace Di2's original wiring system, but it's also far more functional. The 9070 rear derailleur is now more compact and lighter. It offers precise, lightning-fast shifts across an 11-speed cassette – whatever the conditions – with just the click of a button. The lithium-ion battery is now available in two versions, suitable for both external and concealed internal mounting
Earlier this year, Shimano released their less expensive electronic shifting components, the Ultegra Di2 ST 6770 (often referred to as Ui2). As with Shimano's  mechanical groups, the Ultegra version uses materials that will add weight in order shave cost. Ultegra Di2's performance was so high that initial tests favored it more than the lighter initial version of Dura-Ace Di2. While the Dura-Ace Di2 has been upgraded to become the favorite once again, the Ultegra Di2's introduction to the market makes it a strong contender for someone looking to save some money. So, what about an electronic 105 groupset? Looking into the future of cycling, the question is not IF, but WHEN.
If you have questions about which electronic shifting groupset is right for you, stop in either Higher Gear location where our knowledgeable staff can help you with this important – and inevitable – decision.