A shiv is usually a reference to an improvised implement, notably one used as a weapon.
To create the ultimate weapon for triathlon, Specialized broke all the rules.
Specifically, Specialized ignored the UCI rules and designed the Shiv exclusively for triathlon.
This ultimate triathlon weapon features include unmatched aerodynamics, the Fuelselage integrated hydration system and a wide range of fit adjustability.
In recent years, Specialized has set the tri world on fire. Never before has one team so utterly dominated the sport, with world titles in Ironman, Olympic Sprint and Xterra distances. The Shiv has been the weapon of choice for top athletes Craig Alexander, Chris McCormack and Jordan Rapp. Recently long course triathlete Angela Naeth was added to Specialized's Triathlon Race Team.
The Shiv, Specialized's stealthy speed weapon, is absolutely not UCI-legal. It has been designed specifically for the needs of triathletes.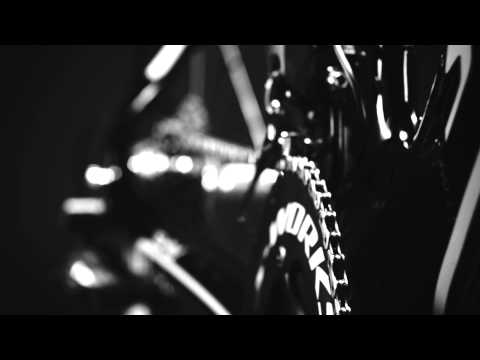 Three words separate the Shiv from the rest of the industry: aero, fuel and fit. It's more aero than the UCI allows, the fit range is greater than previously possible and their patented Fuelselage integrated hydration system is a straight-up game changer.
It all starts with the Shiv's FACT IS carbon frame. Specialized studied airflow in each area of the frame, specifically crosswinds – since that's what triathletes usually experience on the road. Then Specialized optimized tubing and frame design for each specific airflow pattern, rather than relying on uniform airfoils throughout. Since Specialized wasn't restricted by UCI rules, they were free to use ultra-deep airfoil tubing with aspect ratios of up to 4:1 and beyond-faster than the 3:1 UCI standard.
Deeper tubing is only part of the story though. Since traditional water bottle setups are a major drag on aerodynamics, Specialized designed their Fuelselage reservoir to hide neatly inside the massive down/head tubes. The benefits are twofold: it means much safer and more convenient fueling while you're in the aero bars. Plus, through extensive wind tunnel testing, Specialized has proven it's the most aerodynamic bike they've ever made – and more aero than any other bike on the market with a bottle.
Specialized has also been able to dramatically improve the fit options for a wide array of riders. The bike is available in five frame sizes and features their proprietary Specialized aero bars, control tower fit system and flippable airfoil seat posts for a huge range of stack and reach adjustment.
Rather than making just one UCI-legal time trial bike that also happens to work for a triathlon (like the rest of the industry), Specialized stepped out of the UCI box to create a bike exclusively for triathletes. Without these innovation-limiting restrictions, Specialized has rewritten the rule book on what a tri bike should be. The new Shiv is a testament to their unparalleled commitment to the sport and its athletes.
Highlights of this weapon include:
The ultimate frame for all distances of triathlon, this FACT IS 10r carbon frame with OSBB is optimized for crosswinds and the most aerodynamic race-ready frame anywhere.
Specialized FACT carbon monocoque fork with crosswind-optimized airfoils is stiff and stealthy for precision steering and max speed
Fuelselage integrated hydration system keeps your fluids hidden inside the down tube – eliminating the need for exterior water bottles – for ergonomic fueling and optimal aerodynamics.
New, fully adjustable, Specialized Carbon Aerobar (Comp model has Hydroformed alloy aerobar) with semi-integrated aero stem adjusts to fit any rider.
Integrated aerodynamic brakes minimize drag for aero excellence.
Specialized Pro FACT carbon crankset with oversized BB, combined with Pro-tour proven SRAM Red derailleurs, is an ultralight package, offering optimal power transfer and precise shifting.
Stiff, light, contoured Body Geometry Romin Evo saddle positions the rider for optimal power transfer and comfort.
Lightweight, Shiv FACT carbon aero seatposts are reversible, with 12.5mm and 37.5mm offset options, for wide range of saddle fit (both included).
Finally, there's a bike made specifically for triathletes of any size that defies the rules and delivers the fit, aerodynamics and fuel storage you need for a podium or a personal best.
Bike Radar said of the Shiv Pro, it "wasn't just impressively aero but outstandingly comfortable, too."
The Average Guy said of the Shiv Expert:
Once I got it out on the open road this thing just wanted to go fast.  I mean really fast. Because of the incredible aerodynamics all I had to do was get it up to speed and then it just held the pace without having to work too hard… With a lot less effort I was able to pick up 2.2mph.
Don't take their word for it! Come into Higher Gear for a test ride. Decide for yourself whether the Specialized Shiv is your weapon of choice for your 2013 triathlon season.