…Okay, we know, at first glance, it doesn't makes sense to feature a Bike of the Month that actually is in the next model year. We can't even say, "Come on in to check out our Bike of the Month," because the bike isn't actually available yet.* But this bike is so incredibly cool, we just couldn't wait to get it in our hands to tell you about it.
On Friday evening, May 9th, Specialized – a company we're fond of for so many reasons already (You've seen their Wind Tunnel, right?) – unveiled its ALL NEW TARMAC.
We've always loved the Tarmac. What is new about this Tarmac is born out of the McLaren-inspired data-driven design. The 2015 Specialized Tarmac represents a revolution in bicycle design that begins and ends with the rider. This new Tarmac is so amazing, we are featuring it as our May 2014 Bike of the Month, even before we've even had a chance to see it in person. It's THAT amazing.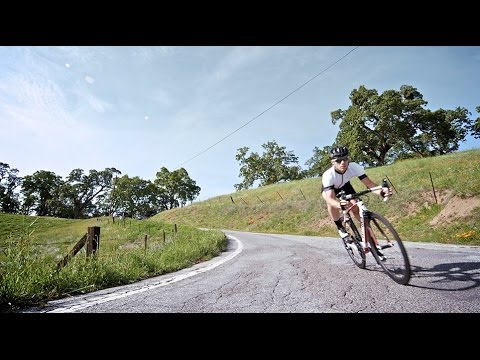 Inspired by their relationship with McLaren, Specialized developed Rider-First Engineered technology, which it is releasing with this next generation of Tarmac. Like all the Tarmacs that came before it, this bike is about complete performance. It combines all the attributes a competitive road racer needs. It provides a significant advancement in every aspect of road riding: acceleration, cornering, and sprinting in every frame size.
Building on the legendary performance of the Tarmac SL4, the new Tarmac is the next revolution in bicycle design that starts and finishes with the rider. Featuring Rider-First Engineered technology, every size frame was developed independently based on the real-world stresses from rider input. The result is a complete performance advancement for every frame size. It's the newest addition to the Tarmac family and along with the SL4, it's sure to provide all the performance you'll ever need.
Tarmac Tech
Every aspect of the new Tarmac has been specifically designed to achieve the optimal balance of performance and ride quality:
Rider-First Engineered
Rider-First Engineered is a totally new way to approach bicycle development that grew out of Specialized's partnership with the leaders in Formula 1 development, McLaren. Rider-First Engineered begins and ends with the Rider; each of the seven frame sizes was developed independently, based exclusively on the real-world stresses introduced by the corresponding rider.
For the first time in any bicycle, now the riding experience and performance of each size rider will be the same. When compared to the Tarmac SL4, all seven sizes of the new Tarmac see improvements in handling, pedaling response (BB stiffness), ride compliance and aerodynamics. On top of that, smaller riders (49, 52, and 54) get a lighter and more balanced bike with improved in-corner handling. Large riders (61 and 64) see marked improvements in steering response.
Learning from McLaren's advanced testing approach, Specialized developed industry-first simulation models and dynamic testing protocols that gave engineers an unprecedented ability to understand exactly how various sized bicycles respond to stresses. This data allowed Specialized to engineer frames that take into account the most important element on a bike — the rider. As a result of this new understanding, Specialized Engineers were able to identify specific performance targets for each of the seven frame sizes and then engineer each independently to achieve the discrete performance targets
FACT 11R Carbon Frame (S-Works)
High modulus carbon frame made from our most advanced carbon construction method.
FACT 11R gives the new Tarmac the incredible stiffness to weight ratio that has defined the model. Unique carbon layups help achieve the best performing bike at every size.
Thanks to a new understanding of real-world stress inputs, Specialized engineers have been able to achieve new levels of stiffness and ride quality thanks in large part to key carbon layup schedules in strategic locations. Stiffness where it's needed and compliance where it matters most. It's the next evolution in Tarmac performance.
Tapered, Shaped Headtube
Strategically designed headtube on Tarmac frames tapers from 1-1/8" at the top to 1-1/2", 1-3/8", or 1-1/4" at the crown—depending on frame size— and facilitates massive top and down tube junctions.
The tapered, shaped headtube offers strength and stiffness for greater steering precision and responsiveness during out-of-the-saddle efforts.
The wider base of the headtube creates a stiffer, stronger junction, and the gradual transition of carbon fiber from top to bottom eliminates the potential for weak spots due to sharp angles—carbon is at its best when it keeps a smooth line. Oversized top and down tubes "wrap" around the front of the head tube, creating the ultra-stiff "bulges" at the junctions.
One-Piece BB/Chainstay
FACT construction with bottom bracket and chainstays constructed as one piece on most frame levels.
This one-piece design optimizes weight and stiffness in one of the most critical and highest-stress areas of the frame for superior acceleration, efficiency, and handling.
The BB and chainstays are molded together creating a single unit, rather than bonded together after molding, along with the carbon BB shell. This results in a super strong and stiff unit: seamless from the BB to the dropouts, eliminating potentially weak junctions. This design resists deflection under extreme pedal loads for improved power transfer.
Benefits of Rider-First Technology
Each of the seven frame sizes were developed independently, based exclusively on the real world stresses introduced by the corresponding rider. The result is a significant advance of complete performance in every frame size, from 49 to 56 to 61, and everything in between. Larger riders are going to have a completely different experience with a bike that handles so precisely. At every size rider, at every attribute required for complete performance, the new Tarmac has raised the bar for performance.
Smaller Riders
Optimal in-corner handling
Improved vertical compliance
17% increase in power transfer
Reduced aerodynamic drag
Mid-Sized Riders
Improved steering response
Better ride compliance
15% increase in power transfer
Reduced aerodynamic drag
Larger Riders
28% steering response improvement
Better ride compliance
16% increase in power transfer
YOUR Tarmac
The Tarmac is YOUR complete race bike. The only bike where every size has been developed independently based on performance targets derived from real world data. So no matter what size you ride, you'll get complete performance. Because there's only one bike you care about… YOURS.
Join the Rider-First Revolution.
If you missed the unveiling of the new Tarmac on May 9th, you can view the webcast here:
Seven models of this groundbreaking Tarmac were launched on May 9th,2014. To set the highest bar for complete performance, there will be an S-Works + McLaren Tarmac model which is in the final development stages. As might be expected for a bicycle at this level, the S-Works + McLaren Tarmac will be handmade in extremely limited quantities.
The Tarmac will soon be available in several versions:
S-Works Tarmac Disc
S-Works Tarmac Dura-Ace
S-Works Tarmac Red
Tarmac Pro Disc Race UDi2
Tarmac Pro Disc Race
Tarmac Pro Race
Tarmac Expert
Visit Specialized's website to view the whole range of Tarmacs that will soon be made available. If you're interested in pre-ordering the all new Tarmac, stop in and talk with our friendly experts. Make sure to like our Facebook page, because you'll want to see this beauty when she comes in.
* Current ETA from Specialized is that bikes will start being shipped at the end of June/beginning of July.