Does your New Year's resolution involve riding more? Perhaps you've decided this is the year to commit to your first century? Or you first sub-5 (sub-five-hour) century?
Higher Gear has the tools to help you keep your resolution, beginning with your new bike…
Introducing Higher Gear's January Bike of the Month:
Bianchi Infinito Countervail Ultegra
Bianchi's Coast to Coast bicycles are designed for riders who love to travel far. Infinito literally means "never ending." The number of miles you'll enjoy aboard your new Bianchi Infinito CV will be never ending!
The Infinito was designed for the rider who wants to mix it up on Saturday's fast tempo group ride yet still remain comfortable logging a century on Sunday.
The all-new Infinito CV has expanded its appeal to Pro Tour, Spring Classics racers and the most discerning performance enthusiasts thanks to its exclusive use of Countervail technology.
Countervail was developed by a US aerospace company to incorporate viscoelastic, vibration cancelling properties into the carbon fiber layup process. Bianchi's proprietary use of this material dramatically reduces road vibration – maximizing ride control, increasing rigidity and peak power output, and diminishing rider fatigue over long distances.
The Countervail technology that went into the new Bianchi Infinito cancels road vibration, letting you ride with more control, longer and faster. You'll have maximum bike control under normal and extreme conditions and experience reduced muscle fatigue over long distances, yet with increased rigidity and peak power output.
In addition to Countervail, rider comfort is enhanced by a slightly taller and more relaxed head tube paired with slightly longer chain stays. Steady cornering, quick acceleration, and stable descending – hallmarks of Bianchi racing geometry – are not compromised to achieve a smoother ride. The Infinito CV redesign adds new aero tubing, a tapered head tube, Pressfit 30 bottom bracket, and UTSS-inspired BAT seat stays to its tried and true performance endurance platform.

Bianchi's Coast 2 Coast frames were designed for the road enthusiast who wants to go far. Long distances can be covered in the optimal riding position for maximum performance with minimum fatigue, guaranteed by Bianchi technology and a unique geometry.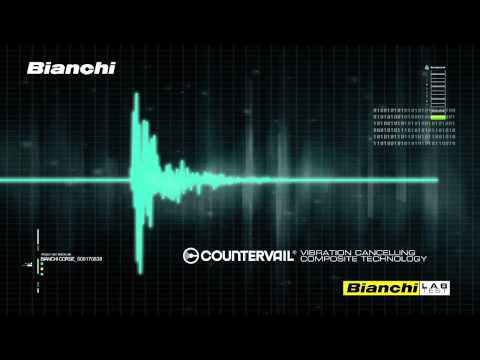 The name says it all: this bike is without limits. The Bianchi Infinito CV offers an optimal geometry for efficient riding during long rides. You want more? Wrap it all up in Bianchi's classic good looks and polish it off with a Shimano Ultegra drive train and you will turn heads (but you'll be enjoying yourself too much to notice).
And we're not the only ones excited about this bike:
Outside Magazine listed the Bianchi Infinito Ultegra as one of their 10 Hottest Road Bikes of 2014.
Road.CC, who rated the Bianchi Infinito CV a 9.0 out of 10, says of the frame: "Good looker with state-of-the-art carbon technology" and of the ride: "Terrific composure and comfort, high quality handling." They add:
'Comfortable' isn't the right word to describe this bike. A sofa is comfortable. Riding a road bike isn't the most natural position for the human body to adopt, but by adjusting the geometry the CV is less uncomfortable than a regular race bike like the Oltre XR. The changes to the geometry aren't so extreme that anyone with any interest in riding fast or even racing will be put off.
Considering doing the Barry-Roubaix this Spring, the local teeth-clattering Midwestern version of the Spring Classic? Check out Road.CC's additional review of the Bianchi Infinito CV on the cobbles.
Come by Higher Gear and check out the Bianchi Infinito Ultegra and more bikes by Bianchi.
And, if your New Year's resolutions happen to involve riding more, completing your first century or riding a fast next century, consider joining us in our state-of-the-art boutique CompuTrainer Studio this winter. Don't let the 2014 cycling season sneak up on you; get ready for it and be ready to conquer!