Wheel Sets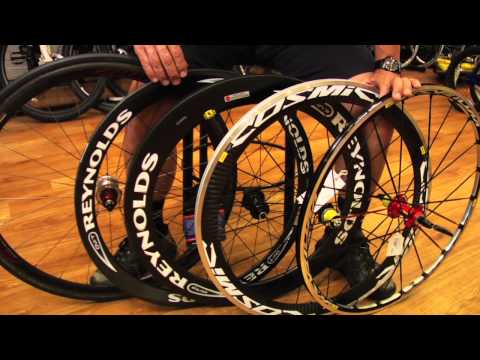 Bicycle wheel technology has evolved in recent years, and there is no better way to see exactly how than by examining the different styles and materials found in today's racing wheels. Higher Gear stocks racing wheels from manufacturers like Mavic and Reynolds in aluminum, a combination of aluminum and lightweight carbon fiber, and all carbon fiber.
There are two types of racing wheels, and they differ primarily by the type of tire each accepts. The first is known as a clincher wheel. This is the wheel most people are familiar with. It takes a tire with a rubber inner tube inside, and the tire itself is seated in a channel within the edge of the rim. It's very reliable technology. The other kind of wheel is one that uses a tubular tire. These wheels are sometimes called "sew-up rims," because the tire and tube are sewn together and then glued to the rim. The integrated construction of tubular tires gives sew-up rims a superior road feel and makes them an outstanding choice for activities like velodrome racing.
When it comes to construction, traditional aluminum wheels are great for everyday use. They are tried-and-true technology and a great option for training in all-weather conditions. Aluminum-carbon and carbon fiber wheels have taller profiles for superior aerodynamics and that translates to greater speed. Ironically, the very thing that makes these wheels more aerodynamic when rolling forward also makes them more sensitive to crosswinds. Consequently, they're usually the wheels of choice for racing rather than training or touring.
Need Help? Have Questions?
Wilmette | 847-256-2330