Your choice in eyewear may very well be your last line of defense against road hazards like glare and stray pebbles. – Jordan Rapp
Bicycles can travel at car-like speeds. That means you need to protect your eyes from more than the sun's rays. Sand, bugs and debris kicked up from the open road all present potential threats. Quality sunglasses aren't just a matter of style; they're a matter of safety.
Sunglasses can be life-changing in the event of a crash, where shatter-proof lenses can keep your eyes safe. Triathlete Jordan Rapp discovered this humbling truth after a hit-and-run accident in 2010. He thanks his shatterproof eyewear for saving his precious eyes. After his accident, Rapp did some research into sports eyewear.
Rapp learned that sports eyewear has three functions – impact protection, UV protection and optical clarity. According to Dr. Hylton Mayer of the Cataract Surgery Center at Yale University, ocular impact is the number two cause of blindness, meaning that impact protection is arguably the most important function of your sports eyewear. Look for eyewear with the ASTM F803-3 standard or, even better, with the ANSI Z87.1 standard.
To protect your eyes long-term, you want sunglasses with full-spectrum UV protection. 100% UV protection protects your eyes from UVA, UVB and UVC light.
The last function of sports eyewear seems obvious. Optical clarity means that your eyes are free to do their job of protecting you. For those who require prescriptions, most sunglasses manufacturers have the ability to customize your glasses with your prescription.
Since sports eyewear isn't just for sunny days, manufacturers offer options for a variety of light conditions. For cycling through any conditions, Higher Gear favors transition lenses – lenses that change in sunlight, going from colorless to varying degrees of darkness.
Some people prefer darker lenses in the sunlight than the transition lenses provide – which is why we also offer sunglasses where the lenses can be swapped accordingly for the light conditions.
Whatever your preference, our staff will be happy to help you pick out the perfect pair for you. We promise that as cool as you'll look, you'll see even better.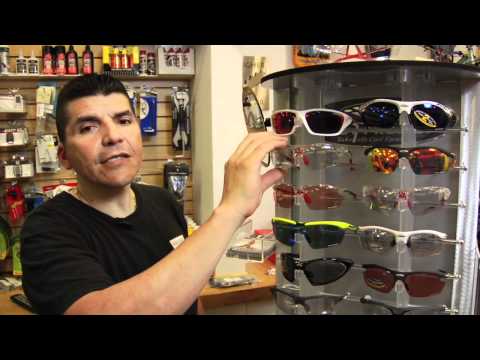 Need Help? Have Questions?
Wilmette | 847-256-2330