Choosing a Bike Helmet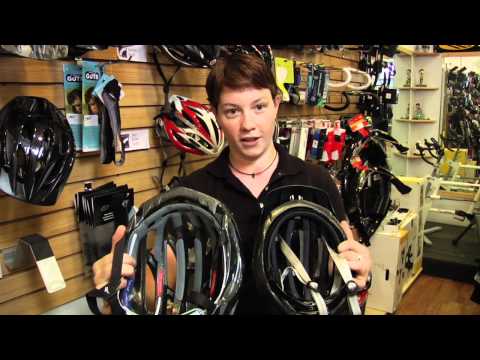 Any time you're on your bike, your helmet should be properly secured on your head.
Your helmet should sit level on your head, not revealing too much of your forehead. Any dials or size adjustments will be at the back. The straps should be secured under your chin, with just enough give so that you can fully open your mouth. Any questions about when your helmet fits or how to properly secure it? Bring your helmet into one of our Higher Gear locations, so our friendly experts can assist you.
How do you choose the right helmet for you?
All bicycle helmets pass rigorous safety checks and are designed to protect your head in the event of a crash. Differences in helmets begin with style. Roadies prefer sleeker, more aerodynamic helmets. Mountain bikers and casual cyclists, who sit more upright on their bikes, often prefer visors to block out the sun. Commuters, who aren't looking for performance, often choose helmets to match their bikes or their personalities.

Differences in helmets then extend to performance features. The biggest differences between more basic helmets and higher end ones are aerodynamics, weight, ventilation, contact points and comfort. Quite simply, with the higher end helmets, you hardly know you're wearing them. The higher end helmets are so lightweight, so well-ventilated and fit so well that the comfort is exceptional. As racers, roadies and triathletes will attest, an aerodynamic helmet can also provide a time advantage. Of course, that kind of performance comes at a price.
At Higher Gear, we provide helmets from the trusted brands. Whether you're looking for a performance-specific Specialized helmet, a fun fun Nutcase helmet or a tiny helmet to protect your child's head, we can help. From the most aerodynamic time trial helmets to kids' helmets, we have what you need for the road, track or trail. Higher Gear's experienced staff is happy to help you find the right helmet to fit your head, your riding style and your budget.

Helmets should be replaced every three to five years – and always after a crash or after they've been compromised. This recommendation comes from the Snell Foundation, an independent foundation recognized worldwide as a leader in helmet safety standards. (In other words, this is not an industry ploy to get you to spend more money. This is to protect that precious noggin' of yours!)
Replacing your helmet every three to five years ensures the integrity of the Styrofoam under the shell. If your helmet was hit hard in an accident or was dropped, has a cracked shell or chunks of Styrofoam missing, or appears to be in any sort of disrepair, it's time for a new one.
Kids are hard on their helmets. Always check your childrens' helmets for cracks and for missing pieces and parts. Check often to make sure their helmets fit, especially from one season to the next. Never hand down a helmet from one child to the next.
It's your head… Use your head… Wear your helmet!
Need Help? Have Questions?
Wilmette | 847-256-2330