Choosing a Bike Helmet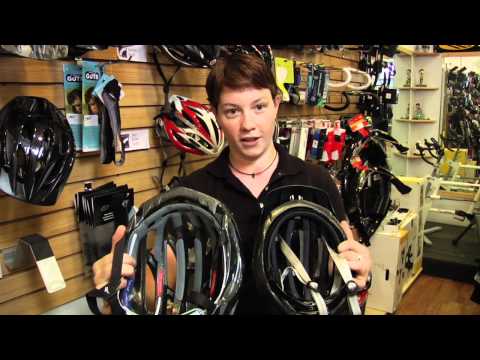 All bicycle helmets pass rigorous safety checks and are designed to protect your head in the event of a crash. Differences in helmets begin in style. Roadies prefer a sleeker, more aerodynamic look. Casual cyclists who sit more upright often use a visor to block out the sun. Commuters, who aren't looking for performance, often choose a helmet that shows off their character.

The biggest differences between more basic helmets and higher end ones are weight, ventilation, contact points and aerodynamics. Quite simply, with the higher end helmets, you hardly know you're wearing them. They're so light, so well ventilated and fit so well that the comfort is exceptional. Of course, that kind of performance comes at a price. Higher Gear's experienced staff is happy to help you find the right helmet to fit your head, your riding style and your budget.
Higher Gear carries helmets from the trusted brands, including Specialized and Uvex. From the most aerodynamic time trial helmets to helmets for kids, we have the ones you need for the road, track or trail. We even stock fun helmets for around town!
Any time you're on your bike, your helmet should be properly secured on your head! Higher Gear wants to remind you that manufacturers recommend replacing your helmet every three to five years. It's a good way to ensure the integrity of the Styrofoam under the shell. Also, if your helmet was hit hard due to an accident or from being dropped, has a cracked shell or appears to be in disrepair on any part of it, it's time for a new one.