In sub-Saharan Africa, 34 million children are missing out on their education. Knowledge is a way forward, and bicycles are making a difference.
At Umoja Secondary School in Eldoret, Kenya, distance, safety and cultural expectations stand between these girls and their futures.
Susan, 18: "You become friends riding together."

Susan is a student leader at Umoja Secondary School. She has big goals for her future, so every minute is precious. With a bicycle, she has more time for personal studies and new friends.
Salwa, 16: "The bicycle teaches you to persevere."

Salwa travels 10 km to school each way. Before the bicycle, she was regularly late and would skip school to avoid punishment for being tardy. Now, she has confidence in her future.
Ayan, 16: "We can be ourselves, not who other people want us to be."

Ayan was the first girl in her community to ride a bicycle. Her achievement inspires other girls to cycle to school and results in increased self-esteem and rising confidence among her peers.
Ibrahim, 16: "I strongly advocate for girls, women's rights."

When bicycles first arrived at Umoja Secondary School, Ibrahim helped teach his classmates how to ride. He recognizes the bicycle as a tool to keep girls safe on the way to school.
Kelly, 14: "I am small but I am strong."

Kelly may be small, but her powerful voice inspires. As a student leader, her peers look to her for guidance and she encourages them to be strong in the face of adversity.
"It's the magic of the bicycle. It is bringing life, encouraging students to explore their potential." – Catherine Makhokha, VP, Umoja Secondary School
With your help, bicycles are empowering students to rise above barriers and ride together toward their dreams.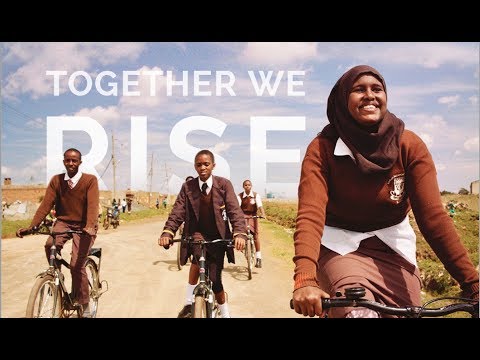 Empower Students to Rise Above
Donate today to empower students with bicycles. Your support will help children reach their potential, break the cycle of poverty, and thrive. Give now and your donation will be matched 1:1.*
Celebrate #GivingTuesday with WBR this year >>
Don't miss WBR's Winter Benefit in Chicago, December 7th >>
World Bicycle Relief is mobilizing people through the Power of Bicycles. They envision a world where distance is no longer a barrier to education, healthcare and economic opportunity.
* All donations made to this global campaign, up to $1.7M, will be matched 1:1 thanks to a group of generous supporters.