All cheer for the second year! The inaugural Rhythm & Blues Revue was a huge success, so much so that we decided to give it another go in 2014. We're delighted to say, no one was disappointed. From the racers who made the day possible and the spectators who provided the support (and the hand-ups and heckles) to all those who volunteered to give us a hand, a good time was had by all.
Thank you to all – racers, spectators, volunteers and USA Cycling officials – who came out and made the day a huge success.
Click here for Rhythm & Blues Revue results >>
Keep scrolling to the bottom of the page for our gallery of race day photos.
The Day
It seems that if you want perfect weather for your event, you need Higher Gear to sponsor you event. If, last year, we thought the weather couldn't be better, this year's race proved us wrong. Temperatures Saturday reached the low 70's while we were at Canal Shores Golf Course, meaning that the cyclocross racers could forgo layers and embrocation for the day, and the pleasant breeze meant that sweat was kept to a minimum.
Fall and fall colors were certainly in the air. As you'll see in our race day photos (in the gallery below), there was hardly a cloud in sight. The bright blue of the sky was offset by a multitude of colors of the changing leaves. Underneath it all, was the plush carpet of the Canal Shores Golf Course.
The Course
Last year, we set out to encourage new riders to cyclocross by creating a course that would minimize the intimidation factor that's present at a lot of nearby races. We set out to do the same this year but we decided to spice up the course just a little bit.
While we again created a beginner-friendly course, we did throw in a few new challenges that were embraced by both new and returning racers. There were a few more twists and off-camber turns on the front half of the course. Another addition here was a sand trap that served to spread out the field before racers could cross the bridge to reach the back half of the course.
Another section that was added to this year's course was a quick little dip down toward the canal and back up, dubbed "the U-turn." In the morning, most of the racers chose to dismount their bikes and run up from the canal, but by midday, the majority of racers took that challenge on from their saddles. Winner of the Cat 3 race, Jeff Holland, said the off-camber section in the woods was his favorite part of the course. He adds that it was "tricky!"
The second half of the course, like last year, was about powering through. There were a few sloppy sections, where racers had mud to contend with. Based on the feedback we've received, the mud was a welcome addition over last year. Bryan McClaran tells us that the mud was his favorite part of the course!
"Thanks for another year Evanston cross! Course was better this year. Loved the mud."

– Bryan McClaran, Cat 4
Cat 4 racer John Walker said his favorite part of the race was "turning through the woods and around the greens. I just ran through the off-camber mud in the woods and then the bunny hop section."
Removing the surplus of obstacles that make other cx courses intimidating to beginners, the Rhythm and Blues Revue course is known to be one that requires racers to go flat out. As Gearhead Andre Odendaal said, "It was a full gas course."
On Saturday, with the mud sections, their ability to keep upright through the sloppy sections and then power out of those sections, especially on the turns, is what separated the experienced riders from the newer riders. But even those who went down managed to get back up and complete their races. That's what's so great – and beginner-friendly – about cyclocross racing, that falls are on mercifully soft ground.
The updates made to the Rhythm & Blues Revue course over last year seemed to be embraced by the racers and the spectators alike. Cat 4 racer Kirsten Lefeldt told us that she "liked it all. Great course!" Cat 4 racer Bryan McClaran added, "All-in-all, it was a good time."
Didn't ride the course? Check out Omar Patalinghug's video from the Cat 3 race: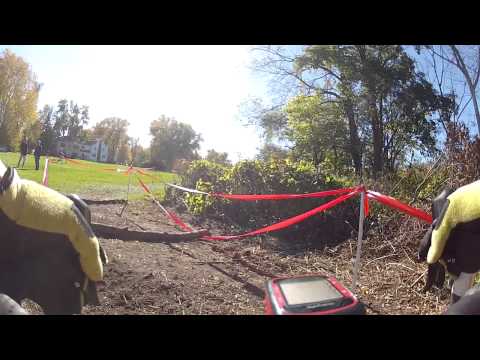 Check out how other racers responded to the question, "What was your favorite part of the course?" >>
The Field
By far, the greatest number of racers took advantage of a race within 15 miles of the Loop and came up from Chicago. Of course, we also had a number of north shore locals, some who came from just down the street in Evanston and Wilmette. There were others who obviously went out of their way to join us Saturday, driving from Lockport We also had a few out-of-state visitors including racers who came from Indiana, Iowa, Pennsylvania, Massachusetts and several from California.
The Rhythm & Blues Revue attracts all kinds of people. There are plenty of cyclocross experts who show up. Some come out to strut their stuff, while others are just looking a chance to get in some practice before Sunday's Chicago Cyclocross Cup (CCC) race. We also get a number of local cyclocross enthusiasts who take advantage of a race close by in the north shore. With a beginner-friendly course, we also get a good number of people who are trying cyclocross for their first time.
Mike Anderson, Cat 5, did his first race and said, "Awesome (first) time today thanks Higher Gear!"
Keep scrolling to the bottom of the page for our gallery of race day photos.
The Future Cyclists
Among those doing their first cyclocross race were Evanston resident Greg Johnson's two young sons, who came out first thing in the morning for the kids race. Greg told us:
"They had a blast and everyone hosting the event was super supportive and helpful. Awesome morning and a great way to get the guys a little taste of "racing" in a very fun, no pressure sort of way."
Later in the day, the Junior cyclists had their moment in the sun. Some were first-timers, while others have been cycling their whole lives. (Parents of kids interested in cycling, meet Paul Swinand – and contact him about getting your child involved in the local cycling scene.) Check out the enthusiastic start of the Juniors race: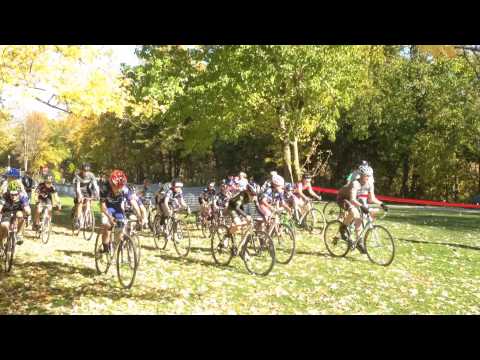 The Future of Cycling
Speaking of first times, we couldn't help but notice a couple new gadgets on the course Saturday. (Come on, we are Gearheads afterall!)
We caught a glimpse of Specialized's new Flux Expert Headlight. Its sculpted beam pattern puts light where you need it and maximizes every lumen.
The wide beam pattern offers a smooth 180 degree wide beam for excellent peripheral vision. It illuminates objects a third of a mile away, without blinding oncoming motorists and cyclists.
You've heard rumors – and have maybe even seen pictures – but you saw it here in person first: SRAM Wireless Electronic Groupset. It appears the rumors are true: wireless electronic shifting is soon to become a reality. When it becomes available to consumers, you'll certainly hear about it here.
Thank you to all who came out and made the second annual Rhythm & Blues Revue a success!
The Gearheads will return to the Chicago Cyclocross scene for the action at Hilton Indian Lakes Resort, November 15th.
Looking for Rhythm & Blues Revue results? Click here >>
2014 R&B Revue Photo Gallery
To open our gallery of (60+) race day photos, click on any image below and begin scrolling:
2014 Rhythm & Blues Revue results >>
Can't get enough cyclocross?