There are bikes and then there are bikes.
There are bike manufacturers and then there are true innovators.
We at Higher Gear are huge fans of Specialized. That's no surprise. What you may not fully comprehend is why.
What we witnessed on our recent trip to Morgan Hill, California might help explain it to you. Or, at least, explain our enthusiasm to you.
Specialized Campus
We arrived at Specialized Headquarters and were a bit taken aback at the setting. We had an image in our minds – of a remote fortress carved out of a mountainside, perhaps with a giant "S" etched into a slope. Instead, our GPS lead us to a sort of industrial complex where, indeed, headquarters is located. Not so remote, but (obviously) an easier commute for their employees, who are spread out over three buildings in the area.
The main building, the actual headquarters, is home to some really awesome stuff. It houses the Specialized Museum, where there is a tribute to Mike Sinyard and the origins of the Specialized Bicycle Components, founded in 1974 when Sinyard distributed Italian bicycles parts from his garage.
There are Specialized bikes that have been ridden to victory and photos of the cyclists who celebrated on their respective podiums. Of course, they would need a much larger museum to feature all the Specialized bikes that have been ridden to victory!
Also in the museum is a newer exhibit, highlighting the Rider-First Engineering. The engineering approach, which grew out of Specialized's partnership with McLaren, guarantees the riding experience and performance of each size rider will be the same, throughout the frame sizes of a given bike model. Here, you can see the detail between two different Tarmac models of different sizes:
Above the museum is special space. It houses a rotating display of Specialized's Creative Director Robert Egger's concept bikes. For over 25 years, Egger has created a stunning array of one-off concepts, some built to full scale. Sometimes his imaginings can help explore new ideas or illustrate concepts that may appear in future Specialized bikes. Others are just for fun.
We couldn't resist the opportunity to exit the Concept Bikes area via the fireman's pole.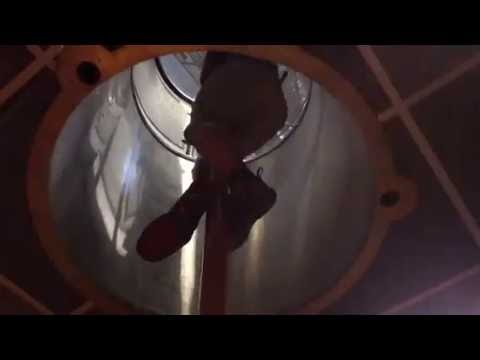 Also housed in the main building is a full on mechanics' work area, complete with any tool you could possibly need, pro mechanics onsite who are available to help when they're not working on building up a new fleet of bikes and a shop for supplies you might have forgotten at home. (You wouldn't want forgetting a pair of socks get in the way of your lunchtime ride, would you?)
Other features of the main building are complete men's and women's locker rooms with plenty of showers, towels, toiletries and locker space. There's plenty of bike parking. Just outside the building is a pump track, that was only recently paved over, and a half-pipe, the latter of which we were told was originally constructed by some of the "four-wheeled loving" employees. When upper management got wind that they had pieced together something in the parking lot, they decided to take it a step further and construct something more stable and permanent.
Testing the Best
We had arranged for a test ride during our visit. We just couldn't resist the opportunity to check out the new Roubaix in person. Despite the great efforts of our guide to locate a hobbit-sized Ruby or Roubaix for me, there wasn't one onsite. Instead, I got to ride a sweet Amira, thanks to Sarah.
My husband, however, did get to try out the new Roubaix and its most unique feature: the Future Shock, a shock positioned above the head tube which offers 20mm of travel.
Even those of us who drink the Specialized Kool-Aid raised an eyebrow over the Future Shock. Sometimes you just have to wonder when updates are actual advances. To put the new Roubaix to the test, my husband took every detour over gravel, manhole covers (of which there were a shockingly high number), potholes and bumps he could find.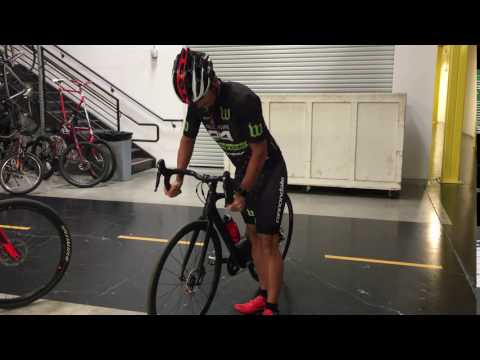 For those skeptics out there, here's what my husband reported after riding the 2017 Roubaix:
"The shock in front is tiny and only moves an inch or two, but it absorbs all kinds of road noise and makes real bumps in the road feel distant–and a lot easier on the arms, shoulders, and neck. When hitting bumps/broken concrete/rough roads on my Tarmac, I normally grip harder to keep from bouncing off the handlebars, but with the new Roubaix I could keep the same light grip I normally use without fear of losing control. Pretty awesome."
Gimmick? Nah, Future Shock is the real deal. Here, Chris Yu, Head of Applied Technologies at Specialized, explains why Future Shock works:
Rocket Science, Rock Star
When we returned from our test ride, imagine our surprise as the one and only Chris Yu – very recognizable from his presence on Specialized's YouTube channel – was waiting for us. Holy smokes!
Yu was there to takes us to another building. When we entered the interior was as unassuming as the exterior. Almost.
The unfinished look of the entrance – with unpolished floors and ceilings and visible plywood – couldn't hide this view:
That honeycomb pattern is how air gets filtered into – you guessed it – Specialized's famous Win Tunnel. We had entered the den of the holy, the sacred spot, where all the magic happens.
Yu gave us a tour of the Win Tunnel and answered our many questions. We talked about the many pro athletes – cyclists, time-trialists, triathletes and more – who have collectively spent hundreds of hours in the same spot where we lingered, trying to squeeze as much out of this awesome experience as possible.
Yu explained why regular wind tunnels – built for automobiles and aircraft – didn't quite cut it when it came to the relatively lower speeds (and needs) of cycling. He also gave us a taste of the Win Tunnel experience.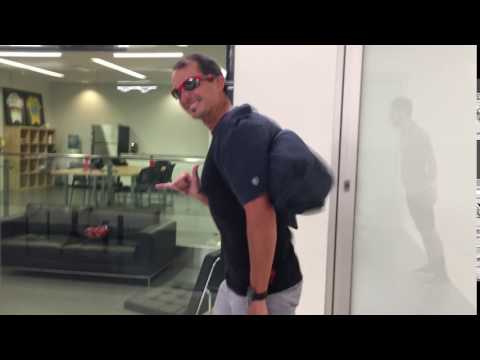 We were awe-struck all the Win Tunnel was designed to do. Add to that the magnitude of seeing and experiencing it in person and getting to pick the brain of one of Specialized's engineers (arguably the most famous of their engineers), and our visit couldn't last long enough.
Imagine touring Cape Canaveral and getting to ask questions of an actual astronaut who got to walk on the moon. Really, that's what it felt like. Yu isn't only really, really smart, but he is also very personable.
Really, though, that shouldn't come as a surprise. It's obvious that Specialized hires some pretty amazing people – from the engineers who design their products to the team on the ground and in our shop. (Don't believe me on the latter? Come to our Rhythm & Blues Revue CX Race on October 29th and meet Eric, who will be out with the Specialized Demo Truck.)
What struck us more, though, was Specialized dedication to those hard-working employees. I mean, who sees skateboarders in their parking lot and says, "You know what, guys, let's build up a half-pipe for you." Specialized did exactly that. And what employer says to its lead designer, "Just go and play. See what you come up with. Have fun." Specialized does.
Maybe that's why Specialized is always on the leading edge and masters of innovation… Because they give their employees freedom to create, time to play and room to see possibilities.
Then, temper those employee's ideas in the industry-leading Win Tunnel… And you have the formula for success.
Special thanks to Matthew who was beyond gracious as host and tour guide, to Sarah for use of her bike and to Chris Yu who shared his time and insight with us. It was a visit we won't soon forget.
Learn how innovative Specialized's Win Tunnel truly is >>
Test out the innovation for yourself when the Specialized Demo Truck comes to our Rhythm & Blues Revue CX Race >>
Discover the technologies behind the 2017 Roubaix, quite possibly my husband's next road bike >>
If you doubted Specialized's capacity for play, check out this video "tour" of their headquarters and virtually visit some of the same places we saw on our tour: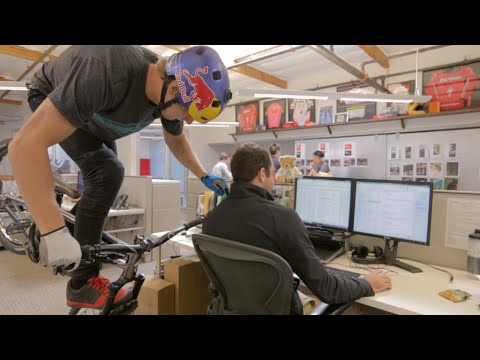 Joy Sherrick is Higher Gear's resident fitness guru, a 3x Boston qualifier and a cycling enthusiast. Out on the bike, Joy is most likely drafting off her IronMan husband.