Every year the whole Chicagoland area gets fired up for the same short period in July (except you cyclocrossers who have already given up on road season): the Intelligentsia Cup.
For me, it was a chance to crush nine straight races with a season of training in Belgium under my belt. It all started in picture perfect Glen Ellyn…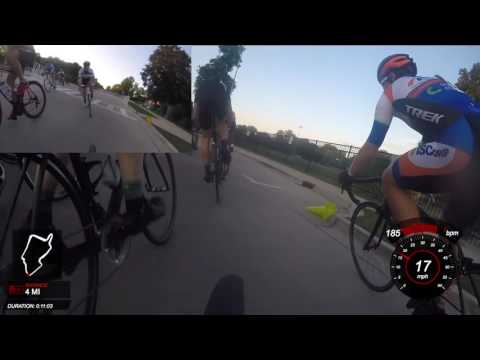 Last year was the first time we raced the Tour of Lake Ellyn as part of the Intelligentsia Cup, and it became one of my favorite races on the calendar, and couldn't wait to return this year. It's a punchy, 2.2km lap with some elevation changes and 10 corners; suited perfectly to a technical, less powerful rider to stay up front or a breakaway to quickly be out-of-sight of the field.

I arrived nervous, but I had a plan: go from the gun. We raced last, at 7.45pm, so I had all day to psych myself up. I warmed up properly and headed to the line, legs fired up and prime to go. Within seconds of the whistle blowing, I was at the front and driving– HARD. I wanted to get away early either alone or with a small group.
It didn't necessarily work, but with just a few laps to go, we had kept driving the front and had thinned 65 starters down to a select 16. They rang the bell for one to go, and I was in shock. After months of 2 hour kermesse, this short criterium has caught me off-guard. I kept holding my ground to the front, but came out of the corner a little too far back, and finished sixth.
6/65 was still my BEST result to date. And although it wasn't the solo, off-the-front victory I was hoping for, it was not a bad start to the week. I got home and in less than 12 hours, I'd be racing in Stage 2.
Next up was the Willow Springs road race. Again it was the Illinois State Championship race. I've never had good results there, and this year I wasn't confident either. The organizers lengthened the course for less repeats up the climb, and the finish is a long downhill into a long straightaway: not necessarily the combination a skinny guy wants.

Regardless, I rode my race, and tried to get away in a move or two, but nothing was sticking. The lack of corners or challenging parts of the course as well as the adrenaline of a field of 60 riders fighting for a state championship jersey meant it'd come down to a bunch sprint. We entered the closing straightaway and immediately the whole field started to shuffle around. From the front, to the back, and then weaving my way up the middle, I found myself toward the front end of the field entering 1km to go.

The guy in front of me suddenly fell to the ground, and I miraculously found a way over him and stayed upright. However, I'd lost my prime real estate at the front, and fought again from the right side of the road, up the middle. I heard another crash behind, but continued to push, shooting left, launching a sprint.

I'm not sure what got into me, but the last 50m I was looking over my shoulder to see if anyone was close. And they weren't. Letting out a huge roar, I crossed the line first. It took a few minutes for my body to realize that I'd just actually won, and it was real.
Yes, I sleep in my Jersey.
Stage 3 video coming soon!!
Feeling comfortable, we moved onto stage 3 at South Chicago. Another long, open course with a likely finish of a bunch sprint. I didn't wanna do much work, but that was not going to be the case. On the first lap, we had a crash and I was caught behind. We had to chase back on, then fight a headwind for half the course for the rest of the day. The finish came out of a U-turn, then a long, straight finish. Two riders got away and used the tailwind down the finishing straight to stay away. I sprinted in the group a few seconds behind and nabbed 3rd with a bike throw to the line.


At this point in the week, I was not only pumped with my position in the overall competition, but also in the free cold-brew that Intelligentsia was supplying after the races.
Stage 4 video coming soon!!


Stage 4 brought the Dennis Jurs Memorial Race in Elgin, a challenging 5.5 km lap with multiple technical corners and a few short climbs. I got out of my car and realized I had left my kit at home, and was on a frantic search to borrow a buddy's only a few minutes before the race. With no warm-up or pre-riding done, I just went ahead and began to wing it for the race.

Luckily, the technicality again suited me well to stay up toward the front, now making sure that nothing would be sneaking away off the front without me in it. The final was a long straightaway to get into position, a tight right hand corner, then a short sprint to the line. We nearly hit some barriers that someone moved onto the course (likely to get across the road) then came into the corner several riders wide. I dove inside while a few riders had to touch their brakes on the outside, and I pushed onward into third again.
Stage 5 video coming soon!!


Even more hype came for Stage 5: West Dundee. I've nicknamed it the Muur of Dundee. Here's why:
The steep climb proved to be a brick wall for some guys in the field, and coming downhill at 40+mph, railing a corner, and having to blast back upward was an ass-kicker for everyone.

I felt something slip halfway through the race, and post-race I had noticed that hitting a pothole and all the aggressive corners resulted in the rubber tread separating from the cotton casing on my Specialized S-Works Turbo Cotton tires. Amazingly, they held up the last few laps into the finish.
Coming up the final climb, I was in a decent position, but a few lapped riders also finishing at the same time caused absolute chaos and I had to try and navigate not only a sprint finish, but also avoid hitting any of the slower riders. I finished up fourth, and held my ground in the overall.

Just over halfway through the week, it had become a 3-man race for the overall, all three of us separated by a few points. Every peek over my shoulder I'd see both of the guys in contention right on my wheel, or closely watching me. It was time for a change in tactics. 
Stage 6 was special, taking place in Niles right behind my old high school, Notre Dame. A new race on the calendar with a 1km long, 6 corner course right up my alley. I always liked these short courses because it becomes easier and easier to get into a rhythm, just making sure to pedal then lean every few seconds and putting out speedy lap times.
An early morning shower had cleared up and the pavement was dry and ready to go by race time. I knew who the guys to beat were, and raced with a different mindset: I wasn't letting a move go up the road containing one of the guys in the overall picture, but wasn't wasting my energy also chasing moves that wouldn't stick or held riders that had poor positioning in the overall.
At one point, I made a move and opened up a huge gap. I peeked over my shoulder and saw Marty Taylor (the BEAST from Amphibian Multisport #WeAreSpecialized) riding the front of the field, slowing down the chase to try and get me away. I held on for a little, but the contenders fired up and tracked me down with six laps to go.
The final two corners involved one of the overall contenders taking a corner wide and losing prime position, and the other one getting away off the front while the guy behind him clipped a pedal (not for the first time in the series…). I fired up to chase with a sprint, but the gap was just a little too big and I took second, but still looking at a close race for the overall.

Stage 7 video coming soon!!
Stage 7 brought on Elmhurst, a local race that has grown into a full block party. It's an absolute model for any race that wants to be successful in the future. I arrived to see the local kids writing encouragement in the finishing straight with chalk, and lined up next to the local alderman himself.
A technical chicane (a quick left corner and straight into a right corner) in the middle of the course caused for a few small moves to go up the road, and I tried to repay the favor to Marty by slowing up the front when he managed to get away. However, the "weekenders" had all finished the workweek and were coming with fresh legs, and managed to chase the moves all down.
With one lap to go, a final break of 2 guys got away, however one crashed out in the chicane and the other got swallowed up with 600m to go. We came around the last corner and up a small false-flat finish, and again I launched off a sprint, this time with perfect position and perfect timing, to take the W.
With both of the other overall contenders taking spots further back, the gap for me to maintain the overall lead got slightly bigger.
Stage 8 video coming soon!!


Stage 8 was Lake Bluff. I believed it was cursed. Never had I ever had a field finish there, mainly due to weaker legs that late in the week and a course that had me sketched from weird corners to having no place to recover or move up.

This time, the whole support crew from the Saturday morning ride showed up: John "HalfSlab", Ed "wEDge", my dad, Tom and Larry. Every lap I could hear their cheers of support and kept the engine on full gas.

The pavement was extremely wet, and the backside of the course (of course, with all those "weird corners") was absolutely soaked and was not drying in the shade of the trees. The road paint on the crosswalks didn't help as I could feel my tires slip a little in each corner.
A single rider got up the road, and by the time I got into chase mode with 6 laps to go, the gap was over 30 seconds. Myself and 2 other riders wanted to bring the guy back, and with 3 to go the gap was 17 seconds. However, everyone else up front had no interest in chasing and just slowed the rhythm, and we never caught that rider up front.
I came out of the last corner a bit too far back after losing spots in the last lap, but in the sprint fought my way back up into 4th with another huge bike throw.
I hopped in the car, and went on to hang up the route signs for the Gran Fondo Hundo.

The next morning, I rode the Gran Fondo Hundo. 100km for WBR, then jumping back in my car and driving from Kenosha down to the West Loop for the final stage at primetime: 7.45pm. We were the last race of the day.
I got out to warm up and my legs couldn't produce any power. The morning had drained me. I continued to spin around but got more and more nervous, knowing my body had to be pushed above and beyond it's limits that night.
I rolled up to the line. Looking East down Fulton Market, I could see parts of the skyline. Looking West, the sun was setting a magnificent pink. Looking straight forward, I saw more spectators than I've ever realized we had, all banging on the barriers and making noise. The adrenaline kicked in, and we were off.
Flying around with laps over 40kph, the four-corner course was wide open and I kept being excited. Like a sugar-rush, I was whooping and yelling and taking pulls like I had legs to go on forever.
I pushed to stay up front, and in the last lap, I was sitting a few wheels back coming into the last corner. A guy got a jump off the front in the corner and just enough gap we wouldn't catch him, but I managed to take second just behind him, wrapping up the overall as my own.
During the cool down, it all kicked in. All the emotions from the week, the realization of the success, the wishes of congratulations from my competitors and friends, it brought tears to my eyes.
6 bags of podium coffee, 1 state champion jersey, 2 white stage winner jerseys, consistent results, and the infamous Overall Leader Mug is exactly what I wanted this week. I had an absolute blast racing my bike and having great success. Here's to next year!
A special note, to close what's likely my longest race report ever. This is my Granny Ka. She has stuck around since my early days as a little junior trying to survive a complete race in a men's field, and has seen me grow from DNF to DFL to field finishes to competitive races to this. She came with to 8 of the 9 races, just some company for the massive amount of car time and some of the best support around. I got a kiss on the cheek after every single race, and I'm sure she's as proud of me racing as I am to race in front of her. She is my #1 fan. (You can contact her to organize a fan-club, just saying).
Joe "Pepe" Sullivan is Higher Gear's very own European correspondent based out of Leuven, Belgium where he attends university. Pepe is testing his mettle in the European racing circuit – in both road (riding his Specialized Venge, named "El Diablo Dos," and his new Specialized Roubaix, Leuven Locomotive, a/k/a. "Loco"),  and cyclocross (on his Specialized Crux) – as well as enjoying the famed cobbled streets that make European cycling so challenging.