May is a special time in Belgium. The weather changes from the chilly, rainy, overcast days of March and April into plenty of days of 16º-20ºC (~60-70ºF) sunshine. It may not be beach weather, but it's surprisingly pleasant regardless. The days get longer; currently the sun rises just before 6.00 in the morning and it doesn't actually get dark till well after 21.30 in the evening. People are simply outside more often in the towns, sitting at cafés, and the general mood is lifted.
For bike racing, May is also the start of something special. In Belgium, there are 5 amateur federations. Every weekend, each federation has a race, sometimes both Saturday and Sunday. Also, there are quite a few bank holidays which there are races for, and the long days allow for races on some weeknights.
When late April came around, I began a transition. My coach (Geoffrey Chandler of TLC Endurance) and I changed from workouts focused on long efforts to shorter, harder intervals. The more local federation, Vlaamse Wielrijders Vereniging, began hosting weekly races that I could easily get to. Geoffrey and I wanted to come out for April/May/June and really test my body and how all the work from winter and early spring paid off.
April 23 – Keerbergen
April 23rd was the beginning of my "Belgian Summer." The race was in Keerbergen, a town about 20km away from where I lived. I hopped on my bike around noon and headed to the race.
Unlike the last races I've done with another federation, this field was full of guys more my age and more my riding style. The course had a few corners, it was warm, and the wind was dead. My legs felt very good sitting in, and I jumped into a break or two, but nothing was sticking. I took a quick peek down at my Garmin, and realized we were already an hour into the race, and I still felt good. The closer we got to the finish, the higher the pace became. I just hung onto the middle of the field, and crossed the line with the main field.
The accomplishment felt great. Belgian amateur fields only take results 20-25 guys deep for payouts, so I'll never know exactly what place I finished. I was still ecstatic with finally having the legs to last over 2 hours and 80km of Belgian Kermesse.
I slowly spun home after, and immediately collapsed in bed.
May 6 – Putte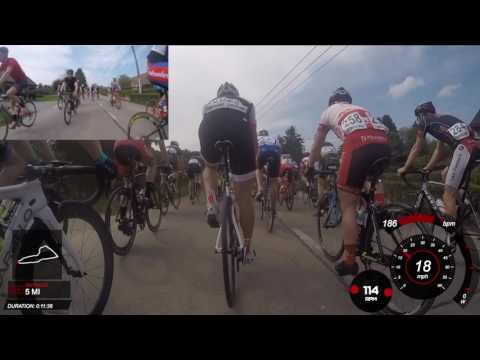 A few weeks later, the next local race popped up. In Putte, a neighbor to Keerbergen, the VWV organized another Kermesse. My friend, Ed Brill, was in town for business and spent the weekend with me watching a Saturday race and then testing his legs on the cobbles and climbs with me or a ride on Sunday.
The course was of similar distance (~88km) but a course that would be a little more technical. There were a few more corners, a few more parts were the road became narrow, and even a corner that was off a curb.
The pace was still extremely high, averaging over 43.5kph for exactly two hours. The moves I followed would peak out at over 56kph in an effort to get away from the field. Again, things weren't sticking up front so I faded to the middle of the pack to try and conserve some energy.
With 2 laps to go, a group broke off the front to take the win. I had not positioned myself right and was a little too far back coming off the last corner (off the curb) then got caught behind a guy who sat up, and burnt what little legs I had left early. But another field finish, another confidence boost, and another great experience.
May 15 – Grimbergen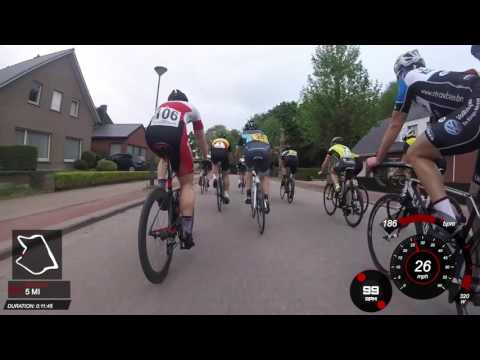 This was one I was excited for. Grimbergen was hosting a criterium at 19.15 in the evening. I convinced my buddy Jonas to escape work early and drive me out there and enjoy some racing. The race was in the town center, and the course was lined with spectators The course was 25 laps of 2.1km, finishing on a descent into 700m of cobbles, 4 corners, a climb on the cobbles, then a quick corner and a sprint (off a curb) to the line.
Geoff sent me a text a few hours before the race: "Do something different today." He wanted me to go out of my comfort zone and try to do something a little bigger than "sit in."
Showing up to race was a Belgian Amateur Champion, last year's Benelux (Belgium-Netherlands-Luxembourg) Champion, and some other heavy hitters. The race took off flying.
On the first lap thru the cobbles, my bike started to feel weird. When we got off, I had realized my saddle was loose. The whole rest of the race was spent trying to distribute my weight evenly enough as to move it back in place or not move it out of place.
With not much left to go wrong, I decided to be different. I started chasing moves myself, not just marking wheels. Never the less, we had a group of 7 establish themselves off the front. The group was made of "all the best riders" as Jonas told me. Behind, the peloton fought to have another split. In some cases, I was in the break, in others, I was chasing it back. My cornering was perfect and I felt in my element: in a criterium.
With 1 to go we crossed the start line and I was in a decent position. As we entered the first corner for cobbles, the field all raced for the corner, and we went in too wide. I touched the brakes and lost some quality positioning. I crossed the line gassed, legs fully cramping, but very happy with my effort. It was without a doubt the most fun I've had on the bike all season.
Jonas came up to me, and we were talking about the race, and I felt humbled. I had just raced with some of the best competition I've ever raced with but held my own. We went to return my numbers after the race (a Belgian routine) and Jonas wanted to take a look at the photo finish. Turns out, I had finally placed, this race in 24th, and went home with 4 euros.
We got back in the car and took off toward home jamming to one of our favorite songs. I got home, drank a liter of chocolate milk, called mom and dad, then collapsed to sleep.
It's been a very very good few weeks for me, and I'm excited to see what happens next. Stay tuned for the next to see what else is going on in my "Belgian Summer."
Learn about Pepe's new bike, the all-new Specialized Roubaix >>
Joe "Pepe" Sullivan is Higher Gear's very own European correspondent based out of Leuven, Belgium where he attends university. Pepe is testing his mettle in the European racing circuit – in both road (racing his Specialized Venge, named "El Diablo Dos," and riding his new Specialized Roubaix, Leuven Locomotive, a/k/a. "Loco"),  and cyclocross (on his Specialized Crux) – as well as enjoying the famed cobbled streets that make European cycling so challenging.