Who ever thought you could re-create July in January?
For the second year in a row, the Higher Gear CompuTrainer Studio has enjoyed an exceptional season and it is worthwhile to reflect on what we've created with this indoor training venue. Supporting indoor training for juniors, families, women's rides, Northwestern race team members, neighbors and friends, the Higher Gear CompuTrainer Studio boasts over 160 riders and nearly 2,000 riding sessions. It is hard to believe such a great experience could come from a simple hole in the wall.
When we decided to expand our Wilmette location, we sought to create more merchandising space in our flagship store. We also believed that re-establishing the Higher Gear CompuTrainer Studio in Wilmette would be a nice winter addition. We never could have expected that starting from such a humble set up, the Higher Gear CompuTrainer Studio would turn into such a core part of the experience and community with create with Higher Gear.
The construction on the space began in November 2014 and we weren't certain how much use the Higher Gear CompuTrainer Studio would get. We figured we would start basic, creating bi-level platforms and eight trainer positions. We tested the space with our first ride in November 2014 and it was an instant hit. The initial sessions were all seeing great demand and riders were coming into the Studio at all hours of the day, ending the work-from-home activities and pulling into Higher Gear for a solid afternoon workout.
Early enhancements were made because of the warm reception from customers, including finish work on the space, upgraded system software, a mobile application for session registration and even towel service. We also had fun bringing in continental breakfast for the weekend sessions. The customers all raved about the initial experience and momentum continued to build.
The Course of the Week was one of the most exciting additions to the experience of the Higher Gear CompuTrainer Studio. We took a simple idea of creating a course each Sunday and giving people the opportunity to ride the course, posting all of the times and performances on a white board. The competitive nature of our customers took off almost immediately, with riders trying to best their friends results, coming in a few times through the week to improve on their personal records, or teaming together to gun for Wes Naviaux and his always herculean results. Modeling the courses from actual rides across the globe, this year we have had 17 weeks that took us from Australia to South Africa, from Leap, Ireland to the North Pole, and all across Europe. It has been a fun addition to the experience in the Studio.
Higher Gear customers enjoy seeing the happy and bright faces of our team at 6am on the weekdays, always greeted with a smile and excitement for the day when Beccy, Stuart, Joe or Catherine open the Studio for riders. The riders are happy to get in the workout and our team is pleased to help our customers start off their days with a roar.
We have seen several customers use the Higher Gear CompuTrainer Studio for rehab. Whether it is a rider that took a spill on a bike a few years back and is still tentative on the road yet enjoys the workout on a bike, or a rebuilding of John McGuinness' knee or Leon Ikler's hip, it is rewarding to see the physical rebuild athletes are able to accomplish for training in the Studio.
We also like to reflect on all of the juniors and family session that were fun times over these past two seasons. From the Notre Dame Velo Club to the Friday junior sessions, or the Sunday family sessions, it is true that those who ride together, stay together. Exercise, run and laughs are all a part of the times with juniors and families.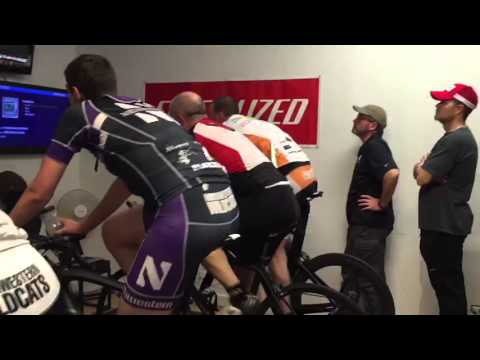 We have been lucky to host two terrific indoor time trials over the past two seasons. First with the Specialized Cup, seeing dozens of riders compete in a day with cheering and enthusiasm for all of those willing to compete. We also were able to leverage the TT for the Loveblood session this past weekend, seeing nearly 30 riders raise over $1,000 to support the Leukemia and Lymphoma Society and one of our favorite junior riders, Graham Ikler as he wins his battle with cancer.
What the Higher Gear CompuTrainer has built is what we've always worked to build with this simple small business. One of the co-owners has always said that every neighborhood needs two things, a good coffee shop and a great bike shop experience. The Studio has gone a long way in helping us frame and nurture a strong sense of community.
With all of those hours of training, you couldn't have expected but the riders to get stronger. What cannot be underestimated is the incredible improvement in rider strength and skill. The Higher Gear CompuTrainer Studio has taken some moms and dads, juniors, neighbors and friends and provided a platform for them to train into some of the strongest riders on the North Shore roads. It has been a real thrill to see the development and improvement of all the athletes that train in the Studio.
So the second year is coming to a close and we are thankful for all the customers that have ridden, all of the support from our vendors and partners for making the Higher Gear CompuTrainer Studio such a success. We're ready for spring like all of the rest of you and the platforms will be packed up soon We'll be back outdoors with the SAT morning rides, the Gran Fondo Hundo in July and many local races and rides, however, come next November, we'll be certain to get ready for the third year of the Studio.
Ride on Gearheads. Ride on.
Click on the gallery below to see just some of the delightful moments we shared in our CompuTrainer Studio the last couple years:
Our extended CompuTrainer season is coming to a close. Join us this week for one (or two or three) last hurrah(s)!
When one door closes, another opens. Join us April 9th for our seventh annual First Ride of Spring and then ride with us outdoors all spring, summer and fall! New to group riding? Check out our Group Ride Rules.