Imagine racing the sun just to get by. People across rural Africa face this challenge every day. Without adequate transportation, access to vital resources such as healthcare, education and economic opportunity is often out of reach.
When you donate to World Bicycle Relief, you mobilize entrepreneurs, healthcare workers and students as they fight to feed their families, build their businesses, treat the sick, finish school, follow their dreams and change their world.
Now through December 31st, your donation to World Bicycle Relief will be matched dollar for dollar.
Mobilize Me
Mobility is just the beginning. No matter how an individual receives a bike – through a work-to-own, study-to-own or micro finance program – reliable transportation is an essential tool for creating change. Step into the shoes of a bike recipient in Africa, and this is how you'd describe your aspirations:
Mobilize me and I'll…

feed my family
expand my farm
care for the sick
finish school
mobilize others
change my world
Meet Ethel, George and Royce:
With a bike, school attendance increases up to 28% and grades improve up to 59%, allowing students like 15-year-old Ethel to pursue their dreams.
Before she owned a bicycle, Ethel had to walk more than 9k across hilly terrain each day to attend school. She often arrived late for class and was unable to keep up with the workload. Ethel received her bike in July. Now, she's happy to arrive at school on time to pursue her goal of becoming a nurse. In addition to setting an example as a successful student, Ethel has mobilized her community by using her bicycle to transport fellow classmates to school.
The Higney family got to meet Ethel when they visited Zambia with Africa Rides.
Learn about the Higney's family trip, witnessing the power of bicycles firsthand.
On a bike, entrepreneurs like chicken farmer George can travel four times further in a third the time carrying five times more goods, multiplying profits and opportunities.
Before owning a bicycle, George used a wheelbarrow to cart five chickens to market each day. After purchasing his Buffalo Bicycle, George now carries more than 20 chickens to market each day; five per load, multiple loads per day. With the help of his sons and grandsons, George is looking forward to expanding his business and selling his produce in new markets.
Bicycles help volunteer HIV/AIDS healthcare workers like Royce in rural Africa reach their clients more quickly and more often.
Before owning a bicycle, Royce would walk 7k a day to visit her four patients. Now, she can visit 18 patients in a single day. Nearly five times the number she could attend to when walking. In addition to her work as a volunteer caregiver, Royce serves on the local council and provides her family with corn farming and paralegal work.
World Bicycle Relief offers more opportunities for economic and cultural empowerment. Skilled workers in rural Africa receive a bike, spare parts, tools and training to launch their own local bike businesses. South African families earn bikes in exchange for nurturing native saplings and collecting recyclable trash.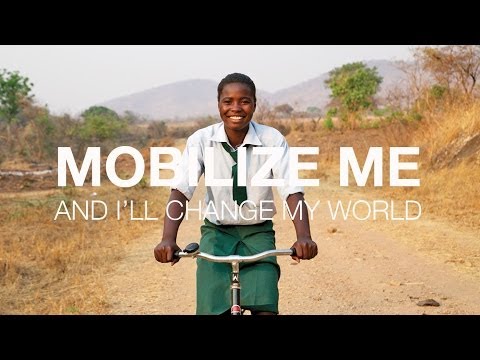 With a Bike, Everything Changes
The people served by World Bicycle Relief have great dreams, and they deserve great tools to help make those dreams come true. With your support, WBR can provide high-quality transportation that turns people's aspirations into achievements.

Now through December 31st, your donation to World Bicycle Relief will be matched dollar for dollar.