psy·cho [sahy-koh] noun, plural psy·chos, adjective Slang.
noun
1. a psychopathic or psychotic person.
2. a crazy or mentally unstable person.
adjective
3. psychopathic or psychotic.
4. crazy; mentally unstable.
The Gearhead cyclocross racers epitomize the last definition with our behavior. We clearly have to be crazy, mentally unstable, to voluntarily enter into a race where our heart rates elevates towards max even before advancing a pedal.
This past Saturday, the Gearheads headed north AND west to beautiful Wacounda, Illinois. "Wacounda" is a word the Native Americans would talk about in their hunts.  "Wauconda" is Algonquin for "bike race on a driving range."
Those of us from the North Shore began a great morning with the drive north and then headed way, WAY west. Others on the Gearhead team could roll out of bed with the cold and flu, and still get a race in.
The course was well-designed, thanks to the loads of volunteers assisting Ted "T-Bone" Schweitzer. As in years past, featured in the center of the course was the best flyover in the Midwest, the Bridge of Sighs. You almost forgot you were on a golf farm. Almost.
2013 marked the fourth year for Gearheads on this course. It's always been predictable: windy, cold and spots of rain. This year was no disappointment. This is cross weather. The Uncle-rico-mobile took up a prime position next to the luxurious, spacious Mercedes Sprinter vans. The Gearhead's ride won the battle for "most class," but couldn't compare to the triple-television interior of the German engineering. Van envy. We had two things those sad German tanks lacked: a pot of chili and cold Old Style. Those would get us through the day.
The day started early with the Masters coming out strong. The course did not deteriorate as our Juniors, 4's and 5's took to the course. The best part about the afternoon was all the sunspots showing as the racers gave it their all. Impressive results followed.
We had three top 20 finishes in Wauconda. Joe "Pepe" Sullivan had an 8th place finish in Juniors 15-18. Andre "Where's my friend Will?" Odendaal did us proud, coming in 17th place in the Men's 3 division. Michael "tri-what?" Rasmussen took 19th in Cat 4.
Omar "Padaladadingdong" Patalinghug rocked the Masters 40+ with 29th place. (See Omar's video from this race below.) Mike "I love me some chili" Slade showed off his prowess in two races, 23rd place finish in the Masters 50+ race and 52nd in Cat 3.
In his second race of the day, Michael Rasmussen placed 31st in Cat 4/5, while Chip "2/3 of a race" Sterrett followed him in for a 33rd place finish. Russ "beat the junior" Hoeffer (55th) and James "graduated to a jersey" Hoeffer (74th) rounded out the back half of the 4/5 field.
As we packed up and headed for home, our minds were filled with one thing: Rhythm and Blues.
Before we make it to that destination, we have bridges to cross and hills to conquer. Next Sunday is Sunrise Park. Bartlett is where it all started four years ago with a simple hill and riding a legendary Colnago World Cup. Join us as we head west and the team continues to rise in the rankings. Bring on "Heckle Hill!"
Until then, we'll leave you from some of the best music from the Golf Barn juke box and dreams of that white t-shirt:
Many teams are more skilled.  Some teams are faster. Others are well-trained. No team – NO team – has more fun than the Gearheads.
After both weekend races – Saturday in Wauconda and Sunday's race at Carpenter's Park – the Gearheads are doing well.
In the overall standings, we have Joe Sullivan ranking 12th among the Juniors 15-18. Omar is ranked 20th in Masters 40+ and 34th in Masters 30+ and Andre, 24th in Cat 3's. Bill Barnes is 35th in Single Speed. Mike Slade is 37th in Masters 50+. Michael Rassmussen is 45th in Cat 4 and Chip Sterrett is 66th in Cat 4/5.
Check out Omar's video from PsychoCross: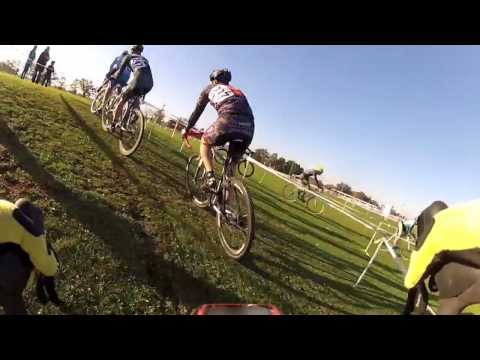 Join us this Sunday for Race #6 of the Chicago Cyclocross Cup series at ABD Sunrise Park in Bartlett, IL. RSVP on Facebook to let us know you're coming.
For more about cyclocross, the Chicago Cyclocross Cup and Gearhead Racing, see Gearhead Cyclocross. You'll find the list of dates and races where Higher Gear will offer light mechanical support, moral support and sustenance there and on our Events Calendar.
If you haven't picked up a Gearhead 'cross kit, they're in stock at both Higher Gear locations now.