Nowadays, many offices forgo the suit-and-tie for more casual dress. That said, most people want to look presentable when they get to work and there are still some who do need to wear a suit.
So, how do you commute by bike and still manage to pull off a polished look at the office?
Many a bike commuter will tell you that, unless you have a private office with a personal bathroom or unless you work in the bike industry and have access to employee locker rooms, you're probably going to have to get by without a shower. That said, there are ways to make yourself and keep your clothes presentable.
Baby wipes or similar products make neat work out of wiping away sweat and odor and any dirt kicked up from the road. Dry shampoo can help wick the sweat away from your scalp. A tube of deodorant at the office is a must.
But, what about your clothes? How do you not come across like a rumpled mess? Those who do not commute every day will often bring extra clothes in on their non-cycling days.
During 2013's National Bike Summit, an industrious gentleman explained one way to ensure freshly pressed suits after a bike ride is to send your dry cleaning out from work. Not a bad idea if that's an option.
For those who transport their clothes on their bike, carefully rolled in waterproof panniers or in a bicycling garment bag, we found this helpful video on how to fold a suit jacket so that it doesn't wrinkle: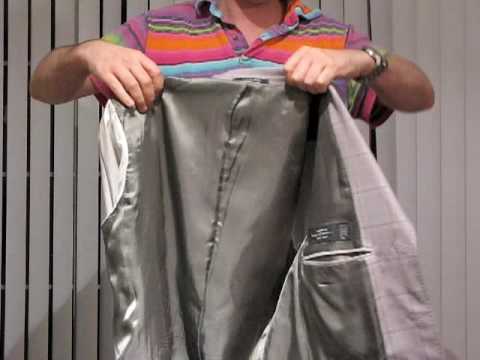 Some of our own commuters offered the following advice when it comes to cleaning up for the office:
Be willing to give up showering until you are back home.  ~ Carol Coplan Babbitt
Find a nearby gym or club with a shower and bike room that allows you to leave your bike overnight if necessary. Check with your office building – many provide these amenities free of charge.  ~ Jeff Kopiwoda
Never attempt to ride in clothes you intend to wear at work.  ~ Carol Coplan Babbitt
It's better to carry stuff on your bike as opposed to on your shoulders in a backpack or in a bicycle messenger bag. Riding for 20 miles with a bunch of extra weight pressing on your shoulders will eventually cause problems.  ~ Chad Smith
Stash clothes at work if possible (especially on non-bike commuting days) to minimize what you have to carry.  ~ Andy Cohen
It is easier to have clothes at your destination as opposed to carrying everything with you.  ~ Chad Smith
Be organized.  Have everything you will need to clean up and dress waiting for you at the office or gym. Forgetting a towel, cuff links or collar stays can bring down a good morning ride.  ~ Jeff Kopiwoda
Carefully pack your clothes. You don't want to get to work and realize you forgot to pack your work shoes (happened to me) or underwear (also, happened to me).  ~ Danny Grant
Learn more about our Higher Gear customer commuters:
Do you have any tricks for looking great at the office after commuting by bike? Let us know on our Facebook page. We'd love to hear from you. Share your Bike to Work Weeks pictures there also. And don't forget to stop by Higher Gear on your way home from the office.