Bike manufacturer Trek  recently announced a recall for a front wheel issue that could result in a crash. This particular recall involves hybrid-style bikes and mountain bikes with disc brakes. Cyclists who don't properly tighten the quick-release skewer's lever are at risk of crashing if the lever gets caught in the brake rotor. A bike coming to a sudden stop like this can have horrible repercussions, but it is also completely avoidable with a proper pre-ride bike check that each and every cyclist should perform before riding.
With spring finally here and people pulling their bicycles out of storage to ride again, we thought we'd use this opportunity to remind everyone of the simple "ABC" steps you can take before each ride to ensure a safe journey.
Before you head out on your ride, remember the acronym "ABC Quick Check."
A stands for Air
Did you put air in your tires only yesterday? Guess what? You need to check the pressure again today before you go out and it's likely you'll need to add air again today. Higher-pressure / lower-volume tires, like those on most road or hybrid bikes, tend to need air on a daily basis. It's completely in the normal range for them to lose 5-10psi overnight. If you're losing much more than that, it could be time to replace your tube. Lower-pressure / higher-volume tires, like most MTB tires, tend to be more forgiving, but a quick squeeze of the tire can be misleading (feeling firm, even if 20psi under pressure). It's always best to check tire pressure before you ride.
Are you over-inflating your tires? What's the optimal pressure? >>
Shop Higher Gear now for a bicycle tire pump with a built-in tire pressure gauge >>
B stands for Brakes
It's easy for typical bike breaks to come out of alignment, especially when handling the bike to get it out of the garage or the car rack. A little bit of pressure in the right spot and the brakes are rubbing, forcing you to work a whole lot harder on your ride and causing uneven and unnecessary brake wear. Take a quick glance at your front and rear brakes to make sure the pads aren't rubbing the wheel before you begin your ride. Squeeze your brake levers to make sure your brakes engage properly. While you're already checking the brakes, take a moment to spot check the depth of each brake pad. If a pad is less than 1/4″ thick, it's time for new brake pads.
C stands for Cranks and Chain
We have a simple tool at Higher Gear that can tell you if your chain needs to be replaced. Stop by anytime and we'll measure your chain for wear. At home, the least you can do is check your chain for debris. If there is rust on your chain, it's time to replace it. If there is debris on your chain, it should be cleaned and oiled before you ride it again. While you're looking at your chain, also check the cranks (where your pedals attach to your bike). A gentle tug away from the bike will suffice. If there is any play, the crank bolts need to be tightened before you ride.
Shop Higher Gear online now for bicycle cleaning solvents and lubricants >>
Quick is for Quick Release
Quick release levers are a quick an easy way for wheels to be removed and attached to bikes. When used properly, they provide a safe connection. Quick release levers should always be check when a bike is being moved – whether from a car rack, a bike rack, an indoor trainer or a garage, where the skewer could have caught on something or otherwise been loosened. For your safety, it's always best to check the skewer before each ride.
Here are some tips to keep in mind when using a quick release skewer:
The fork fits in between the hub and the quick release washers.
Use the nut (opposite the quick release lever) to adjust the tension of the skewer.
The skewer should meet some resistance when halfway closed.
The quick release levers should not be touching the fork or the brake.
The quick release skewers should all be pointing toward the back of the bike, so that they don't get caught on anything.
Check is for Check It Over
Most safety issues will reveal themselves with a quick look over and listen before you ride. Your eyes and your ears are valuable tools. Do you see anything out of place? Then, lift your wheels a few inches off the ground and let your bike fall, listening for any noises that indicate something is loose.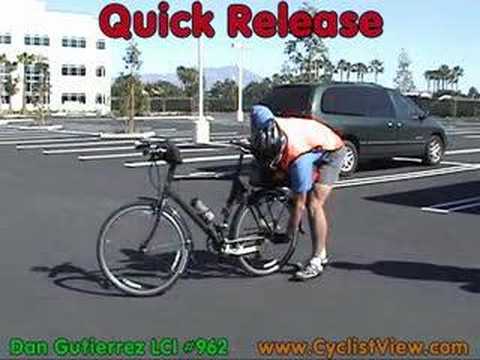 Is your bike coming out of the storage after a long winter? Call or come in to schedule your spring tune-up today >>
If your bike has been in storage for a while or if it needs serious help, it's time to consider a tune-up. Call today to schedule an appointment for your bike to spend some times in the hands of our skilled mechanics.
Not sure what you need? Don't hesitate to talk with our mechanics. Stop by Higher Gear. We promise, the only thing intimidating about our mechanics is their skill.