The weekend of October 29th was full of excitement. Sandwiched in between two World Series games at Wrigley Field (Not sure if you've been paying attention, but the Cubs are in the 2016 World Series. Holy cow!), the cyclocross excitement was even closer to home.
Saturday was our fourth annual Rhythm & Blues Revue Cyclocross Race and we had a great day!
We escaped the Belgium weather this year. Instead we had just enough rain earlier in the week to make give our racers' legs respectability – and to create a "water feature" on our course. But race day weather was perfect: warm and just overcast enough to be enjoyable.
Still a power course, this year's edition of our race offered a few more challenges (in addition to that water feature). Thanks to Scottie's hard work (we think he could have a second career in landscaping), there were more wooded sections and a run-up section. Our new and improved course also took racers over two kickers. Experienced riders were able to jump them; others dragged their drivetrains through a little mud. But what's a cx race without mud, really?
Just like years' past, the Pony Shop came out en force. Just look at that stacked 10-14 field!
But the Pony Shop juniors aren't just about sweeping podiums (which they did handily). They also prove that cycling and having fun go hand-in-hand.
Even better, the Pony Shop juniors were out there to encourage other racers out on the course, showing us what this sport is all about.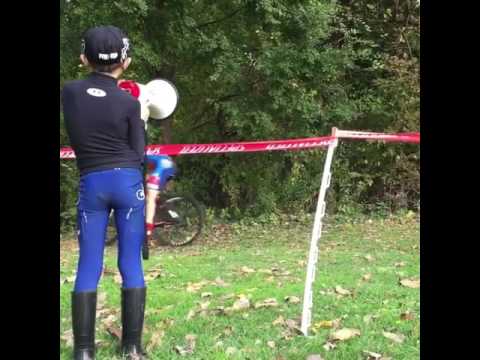 To encourage those juniors to come back for more, a generous anonymous donor made sure each of the junior field winners left home with a little cash – enough to cover their next couple race entrance fees.
Everyone agrees, the real winner of the day was the Specialized Levo. While there were a number of awesome Specialized bikes to test ride, the pedal-assist was pretty spectacular.
Thanks to all who came out to race, to give us a hand in setting up the course and to spectate. We have a fun day – and hope you did too.
Thank you, goo, to Catherine for capturing some of the racing action. Check out our race day photo galleries below. (Click on any picture to open the respective gallery – and check back here for more, as we'll load more photos as they come in.)
Thank you, again, to all who joined us to make our 4th annual R&B Revue Cyclocross Race a success. We have a blast putting on a great show, but we wouldn't have a race without you. Here's to next year – for us, and to THIS year for the Cubs!
Click here for results from the 4th annual Rhythm & Blues Revue >>
Results will also be available on USA Cycling soon >>
The cycling action isn't over! We're heading indoors for winter. Take advantage of pre-season pricing and come ride indoors with us >>
Don't miss events like our annual Rhythm & Blues Revue! Register for our weekly newsletter >>