There was a starting grid, a jumbotron, podium girls, bleachers, and professionals. It had to be a grand prix; the Glencoe Grand Prix.
Juniors 15-18 gave a perfect example. I lined up next to people from across Illinois, Michigan, and Indiana. People were flocking from across the midwest for the National Criterium Calendar race. Three laps in, I noticed a rider rev up his cadence and move toward the front right before a corner. After a few races, I knew this was his sign for attacking. I began to speed up to chase, but I got stuck behind another rider, opening up a gap which would not be closed. For the next sixteen minutes of racing, I raced alongside 4 other people. It ended in a sprint between myself and another 16 year old from xXx. El Diablo prevailed to take 9th place, but at the price of a front wheel. During the sprint, just as I crossed the line, I snapped my spoke.
After almost 6 hours of rest, watching the Women's Pro race, and convincing a friend of mine to lend me his GoPro for my Men's Category 4 race, I began warming up. SRAM neutral support gave me a spare wheel to use for the race. Starting in the eighth row, I had a poor starting position to get into the front group. The course changed to include an uphill and a downhill, so each corner became a challenge as the field began to brake in corners, which is something that you really shouldn't do in races.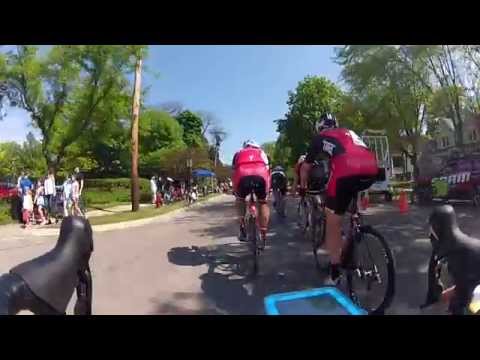 At 28:08, my final lap begins. I laid low behind the small group, and prepared for the sprint. Out of turn 10, my sprint was perfect, as I picked up a few spots, finishing in 56th of 72.
June 7th and 8th is the Tour of Galena. I will be racing the Individual Time Trial and Road Race on Saturday, and the Criterium on Sunday. My climbing will be put to the test all weekend long. stay tuned for my next race report!
Joe "Pepe" Sullivan is a junior cyclists from Evanston, Illinois. He goes into the 2014 cycling season as a 16 year-old, riding a Specialized Venge, named "El Diablo Dos." Joe races for Higher Gear in both cyclocross and road. You can find him most of the summer and many weekends in our Wilmette location.