The 2014 Cyclocross Nationals wrapped up five days of racing Sunday, January 12th when the pro riders took the stage in Valmont Bike Park in Boulder, Colorado.
Women's Pro Racing
First up was the women's pro field. Fresh off her World Cup win, Katie Compton (Colorado Springs, CO/Trek Cyclocross Collective) was the first called up to the start. Following her was Kaitlin Antonneau (Colorado Springs, CO/Cannondale pb Cyclocrossworld), who is being coached by Compton. Next up were Meredith Miller (Boulder, CO/California Giant Cycling) and Elle Anderson (San Francisco, CA/California Giant Cycling), followed by Crystal Anthony (Beverly, MA/Team Optum p/b Kelly Benefit St).
After the gun, Crystal Anthony, who was lined up on the outside, went out hard and took the hole shot, but Katie Compton soon took control and found the lead. Just before the 5280′ steps, Elle Anderson, the only American woman who has ever beaten Compton, captured the lead, riding ahead of Compton. Compton took a brief detour through the pits for a change of tire, after she noticed her tire leaking.
On the lower half of the course, Compton regained her lead. Compton's first lap was completed in 8:33, a time the announcers declared would put her in the top 10 of just about every race of the week. (Her second and third laps were even faster at 8:21 and 8:39 respectively.) From there, she proved that there's Katie Compton and then there's the rest of the race.
No one ever took the lead away from Compton again. In fact, both the first and second spots of the podium were solidified in that first lap by her and Anderson. At the end of that same lap, Nicole Duke and Crystal Anthony were battling for third. Over the course of the next four laps, Duke would tire – fatigue setting in enough that she actually tripped going up the 5280′ steps on her fourth lap – until she dropped back far enough to eventually finish off the podium in eighth place.
While the podium has five spots, the race is really for the first three. After Duke fell back, the race for third would be between Crystal Anthony and Meredith Miller, who, opposite of Duke, is the type of racer who tends to speed up with each lap. Meredith kept on Crystal's wheel, until a critical moment just before the final straightaway of their fifth and final lap. Miller made her move to pass Anthony and, whether the blow was mental or Anthony just didn't have anything left in the tank, Miller held on for third place.
Miller seized bronze. The final two spots on the podium were filled by Crystal and Georgia Gould (Fort Collins, CO/Luna Pro Team). Rounding out the top ten were Rachel Lloyd (Fairfax, CA/California Giant Cycling), Antonneau, who was the top U23 rider in the elite women's race to defend her U23 National Championship, Duke in 8th, Chloe Woodruff (Tucson, AZ/Crankbrothers Race Club) and Women's Single Speed Champion Mo Bruno Roy (Arlington, MA/Bob's Red Mill p/b Seven Cycles).
The announcers said that women's cyclcocross racing in North America is "as good as it gets," going on to say that the women's elite race at Nationals was arguably the most exciting race of the day. With women being limited to a 40-minute race, they are much more vulnerable to mistakes and mechanicals than the men who have twenty additional minutes to make up time.
Watching Compton approach Pete's Plunge, an off-camber downhill turn, the announcers remarked that she may be the best bike handler in the sport of cyclocross, with greater skills than found even in the men's field. In the straightaway, they likened her to Mark Cavendish: aerodynamic and compact. They went on to declare that she may be one of the best cyclocross riders in the world – based on her wins, but more importantly, on her consistent performance. While Compton's dominance in the sport may detract from the suspense of a race, this ten-time National Champion is such a pleasure to watch.
Men's Pro Racing
After Compton's decisive win over the women's field, former National Champion Jeremy Powers (Easthampton, MA/Rapha Focus) decided to show what he was made of from the very start of the men's pro race. Powers, who lost his National Championship title to Jonathon Page (Northfield, NH/Fuji/Spy Optics) and finished off the podium in a disappointing sixth place last year, exploded on to the 2014 course in a manner befitting his nickname "JPow!"
Before he took off, lining up at start with JPow was last year's National Champion. Back in 2007, Page was the first American to stand on the podium in the World Cyclocross Championship, where he took silver. Page had a rough season though, besieged by a broken rib. While he looked like a completely different rider than he did at the 2013 Cyclocross National Championship, he held his own. In the third lap, Page tapped the wheel of Timothy Johnson (Topsfield, MA/Cannondale pb Cyclocrossworld), who was in front of him. This momentary stumble seemed to throw Page off. He was never able to catch back up with the leaders. His tenacity landed him just outside the podium with sixth place at the end of the day.
Others called up at the starting line for the pro men's race were Johnson, all six-foot-five-inches of Ryan Trebon (Bend, OR/Cannondale pb Cyclocrossworld) and James Driscoll (Park City, UT/Raleigh Clement).
Trebon held on to Powers as long as he could, but Powers kept putting the pedal to the metal and never let up. His first lap, a blistering 7:33 became one of his slowest of the day. He followed that up with seven more laps at 7:28, 7:16, 7:21, 7:21, 7:20, 7:26 and 7:34.
The blistering pace Powers set in his third lap split up the field. Trebon was never able to close the gap between them. That 7:16 lap was seven seconds faster than Trebon's fastest lap, 14 seconds faster than any of bronze medalist Johnson's laps and 1:05 faster than any of Women's Champion Katie Compton's. Powers' slowest lap was faster than any that fourth-place finisher Jamey Driscoll (Park City, UT/Raleigh Clement) left out on the Championship course.
At the finish line, there was a 43-second gap between Powers and Trebon, an additional 53 seconds before Johnson crossed and another 56 seconds before fourth place Driscoll, who was neck and neck with Allen Krughoff (Boulder, CO/Raleigh Clement), who rounded of the podium in fifth place.
Of the 105 men who lined up the starting line, only 22 were able to complete all seven laps. The blistering pace set by Powers just tore up the field and men were sent off the course as they were being lapped by the leaders. The announcers feared for Powers that he would not be able to maintain his pace over a 60-minute race, but his splits prove that Powers deserves that gold medal. Of his performance, Powers said, "I didn't plan it; I just went off instinct and it worked out." He really executed a perfect race.
Bolder Boulder and Beyond
Last year, Compton declared that Madison proved to be the toughest course yet for her. Conditions changed constantly as the sun would hide and peek out from clouds. The  consistency of the mud changed, at times thick as peanut butter.
While the Championship course was blanketed in snow earlier in the week – indeed, the earliest racers were subject to single-track course, where enough riders had created a path through the snow, in some places. By the weekend, however, enough of Colorado's 300 days of sunshine had worked its magic, and the course was devoid of snow.
By Saturday, the course was still slimy, forcing racers to choose mud tires and leaving them and their bikes covered in mud. By Sunday, there were only a few patches of mud, while most of the course was dry. Most of the elites opted for medium-aggressive tires, like file-tread tires, sometimes only on the rear.
What racers had instead on Sunday was a fierce wind. The wind let up slightly for the elite women's start, but picked back up right away. Many of the pros opted for aero helmets, not because their speeds dictated a need for the advantage, but to cut through the wind of the day, especially the headwind on the straightaways.
The wind didn't keep spectators away; the active community of Boulder came out in full force, cheering the pros all the way. In fact, Meredith Miller credits her hometown crowd for her final push to overtake Crystal Anthony and land on the podium.
Next year, there won't be many at the top with a hometown advantage – when the USA Cyclocross National Championships will be held in Austin, TX.
Cyclocross Worlds
For those playing along at home, now that the US season has wrapped up, USA Cycling has announced its roster for the 2014 Cyclocross World Championship for this year in Hoogerheide, Netherlands on February 1st and 2nd.
Katie Compton gets an automatic entry based on her silver medal last year at the World Cup. Kaitlin Antonneau, Elle Anderson and Meredith Miller also received automatic nominations, securing their spots on the women's roster. Discretionary Crystal Anthony and to Arley Kemmerer, who placed 11th on Sunday.
After taking the Championship title Sunday, and for being the top-ranked US male, Jeremy Powers gets an automatic entry to the World Championship. Joining him with automatic entries are Tim Johnson and Ryan Trebon. Discretionary entries were granted to Jonathan Page, Allen Krughoff and Zach McDonald.
Click here to read USAC's announcement.
Can't Get Enough CX?
If you missed the action, check out the video from Sunday's broadcast: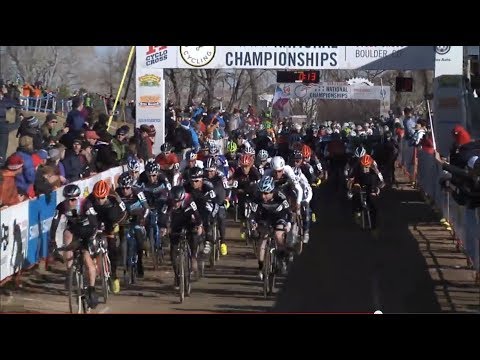 Women's pro race begins around 3:30 on the video; men's pro racing begins around 4:30.
For more on Sunday's Championship race, check out:
And, if you're a fan of cyclocross in the US, don't miss: