We in the Midwest tend to pack in a lot of fun into the few months of pleasant weather we have here. After the winter of 2013/2014, we will likely be in a frantic rush to cram in as much as we can as soon as we can. The good news is that there's something for every cycling enthusiast on the calendar!
Below are just some of the events and rides that are going on in Chicagoland or nearby for the summer of 2014. Some of these are day-long family-friendly events that feature spectacular pro-level racing. Some are great excuses to get the whole family out on their bikes. Some are charity events and rides. Others are races for those who are looking to jump into competitive cycling.
For more event listings, visit Chicago Bike Racing, League of Illinois Bicyclists, Wisconsin Cycling Association, Bicycle Federation of Wisconsin, Michigan Bicycle Racing Association, and League of Michigan Bicylists.
Check back here (from our home page, click Riding/Racing >> Chicagoland Cycling Calendar), as we'll update our calendar as events are added and dates are finalized. If you or your team have an event not listed below, contact us and let us know about it.
In the meantime, dust off your bike and get it in to Higher Gear for your Spring Tune-Up, so you're ready to ride with us for our First Ride of Spring on March 15th!
March 2014 Cycling Races, Rides & Events

15 March: First Ride of Spring
Wilmette, IL
We're ready for spring, even if Mother Nature is not! Higher Gear's fifth annual First Ride of Spring is scheduled for Saturday, March 15th. This is a no-drop ride, so nobody gets left behind. All skill levels are welcome.
Never participated in a group ride before? Check out our Group Ride Rules.
New to cycling? Higher Gear customer Kevin Mulhall recommends Higher Gear group rides.
16 – 30 March: 35th Annual Spring Training Races
Kenosha, WI & Salem, WI
The annual Spring Training Criterium is ideal for the start of the outdoor racing season and is especially friendly to new criterium racers. New for 2014, the series will take place in two different locations. The Business Park of Kenosha has a 1.2 mile course that is flat and wide, while 1.5 mile course in Salem features rolling hills. The races are all Sundays. Those March 16th and March 23rd are in Kenosha. The final race March 30th is in Salem.
24 March – 28 April: Ann Arbor Spring Training Series
Ann Arbor, MI
An early season criterium race series designed to be a fun, low key event and a great chance for new and experienced racers to learn and get back in the swing of racing. Races are Sundays, March 24th, April 7th, April 14th, April 21st and April 28th. Locations are TBA. Check their website for updates.
22 March: Barry-Roubaix
Hastings, MI
Michigan's 2014 cycling race season kicks off the year with the Killer Gravel Road Race in Barry County. Like the Spring Classic it's named after, Barry-Roubaix will test riders against rolling gravel roads (80%), pavement, one mile of rough two track, rocks, sand, mud and possibly snow and ice, along with 2200 feet of climbing over its 35 mile loop. Cyclocross, mountain, road, single-speed, fixed gear, fat bikes and tandem bicycles are welcome in any category.
Learn about the Paris-Roubaix and other 2014 Spring Classics.
Not familiar with fat bike? Meet a Higher Gear customer who is embracing winter on a fat bike.
31 March – 3 April: Gapers Block Crits
Calumet Park, Chicago, IL
This fun and accessible week-long race series is perfect for beginners or for those on the cusp of upgrading. These races promise a low-cost, low-key, super beginner-friendly way to get some mass starts and some race practices in before things start getting serious. To make the annual practice criterium series even more beginner friendly, a Cat 5 only heat is now available.
Think you're too old to try racing? Higher Gear customer Kiki Demopoulos found the Fountain of Youth on her bike.
April 2014 Cycling Races, Rides & Events

5 April: 7th Annual Spring Super Criterium
South Beloit , IL
With Blackhawk Farms Raceway as the backdrop, this USAC-sanctioned event will once again serve as the season-opener for the Illinois Cup. The SSC has qualities serving everyone from the first-time competitor to the grizzled veteran. Elevation gains are minor, but the nearly two-mile-long course has many sweeping and declining radius turns, as well as final straightaway that in the last five years has served as the Launch Pad for legendary showdowns. Co-hosted by Burnham Racing and Spidermonkey Cycling. This is the inaugural event of the Pavé Liga series, kicking off the 2014 road season .
12 April: Lincoln Park Criterium
Lincoln Park/Montrose Harbor, Chicago, IL
XXX Racing-AthletiCo has a long record of bringing quality amateur racing to the city of Chicago. 2012 marked this annual criterium's first year doing a loop near Montrose Harbor.
14 April – 15 September: Mid America Time Trial Series
Various cities throughout WI & IL
Since its beginning in 1988, MATTS has grown to become one of the largest and longest running time trial series in the United States. MATTS offers many events throughout the year, both indoor and outdoor, including individual and team events and over 30 age group and abilty categories to choose from, giving time trialists in Illinois and Wisconsin lots of options. MATTS encourages cyclists of all levels, juniors, masters, triathletes,and duathletes to participate in its events.
13 April: Big Ring Flyers-Rock River Multisport 20k, Cherry Valley, IL
4 May: WBR Single Bong, 20k, Kansasville, WI
18 May: Stray Kats Kankakee 20k, Kankakee, IL
1 June:WBR Havard 33.3k, Harvard, IL
8 June: WBR Bong and a Half 30k , Kansasville WI
14 June: Scarlet Fire 30k TT (part of the Pavé Liga series), Garden Prairie, IL
22 June: Team Apache Illinois State Championship 40k, Paw Paw, IL
13 July: Midwest Masters Wolfgang Freitag Memorial 50k 2-person TTT, Herscher, IL
20 July: Stray Kats-Dr. Craig Schultz Memorial Regional Championship 40k, Cordova, IL
2 August: Lamb Little Racing Bryce Master 19k, Harvard, IL
10 August: WBR Double Bong Wisconsin State Championship 40k, Kansasville, WI
16 August: MadCity Velo Kirke Vei 20k, Kegonsa, WI
31 AugustBig Ring Flyers-Rock River Multisport Return to Cherry Valley 20k, Cherry Valley, IL
7 September: PYOC Four Person Team Time Trial Championship (part of the Pavé Liga series), Kankakee, IL
13 September: EMC2 MATTS Finale 40k, Garden Prairie, IL
Thinking about racing? Higher Gear customer Nancy Heymann tells you to "jump in!"
26 April: 13th Annual IC3 Hillsboro-Roubaix Road Race
Hillsboro, IL
Wish you could race a Spring Classic in Europe? Race the Hillsboro-Roubaix through the brick streets and rural roads of beautiful Hillsboro, Illinois. Just 60 miles, but a world away from St. Louis, MO, this is small town America at its best. Racers will tour the brick streets of Hillsboro in a rolling neutral start, then race a 29 mile loop that has all you want in a Spring Classic: flat open back roads heading into a northern headwind, rolling terrain, short but challenging climbs, twisty descents and village streets paved in brick. This race is part of the Pavé Liga series.
Read about the Paris-Roubaix and other 2014 Spring Classics.
27 April: 32nd Annual Easter Ride
Park Forest, IL
Food and fun are what this ride is all about! Pick one of five routes (17, 28, 33, 50 or 62 mile) through pastoral farmlands, wildflower-filled woods and friendly towns. Rest stops are stocked with fruit, drinks, sandwiches, homemade cookies and even live entertainment. After the ride, stop at Dining on the Green for food, music and a massage. You may even see the Easter Bunny!
May 2014 Cycling Races, Rides & Events

May: National Bike Month
Nationwide
Sponsored by the League of American Bicyclists, National Bike Month is an opportunity to celebrate the unique power of the bicycle and the many reasons we ride. Whether you bike to work or school; to save money or time; to preserve your health or the environment; to explore your community or get to your destination, get involved in Bike Month in your city or state — and help get more people in your community out riding too!
Get it in to Higher Gear for a Tune-Up, so you're ready to ride during Bike Month!
1 May-30 September: The 2014 National Bike Challenge
Nationwide
Sign up for The National Bike Challenge as an individual or as a team, log your miles, share your stories and encourage others to join you while competing for prizes and awards on the local and national level. Help the Challenge on their quest to reach 50,000 riders this year and win some prizes as you ride.
3 May: Women's Track Cycling Clinic
Northbrook, IL
Ladies, interested in learning how to ride a track bike or race on the Velodrome? This summer, the Ed Rudolph Velodrome in Northbrook is offering two women's clinics. The first, in May, will be more of an introduction to the sport. On July 12th, a second clinic will continue from where the May 3rd clinic left off.
Read about Higher Gear's own Catherine Watkins and her successful 2013 season at the track.
7 May: Annual Bike to School Day
Nationwide
Bike to School Day is a national event that gives communities across the country the opportunity to join together in bicycling to school on the same day. The event, an exciting celebration for both those new to the experience and those who have been two-wheeling to school for years, is part of the movement for year-round safe routes to school, and encourages bicycling to school as a healthy way for kids and families to make their school commute.
Bring your kids' bikes in to Higher Gear for a Tune-Up, so they're ready to ride for Back to School Day!
10 May: Monsters of the Midway Criterium
Chicago, IL
A flat, fast 4-corner race held on the beautiful Midway south of the University of Chicago. Sponsored by the University of Chicago Velo Club.
11 May: CycloFemme
Nationwide
CycloFemme is a Global Women's Cycling Day created to honor the past and the emancipation of our grandmothers and great-grandmothers, for the freedom to choose and the chance to wear pants. To celebrate the present and the riders who keep it rolling, bringing women's racing to the forefront, pushing the limits, breaking down barriers and sharing the love of the bike with everyone along the way. To empower the future of women in cycling and the opportunity for positive social change. Encourage women to ride and they will change the world. Ride on March 11th to honor, celebrate and encourage.
12 – 16 May: Bike to Work Week
Nationwide
Sponsored by the League of American Bicyclists, National Bike to Work Week is an opportunity to celebrate the unique power of the bicycle and the many reasons we ride.
Meet Higher Gear customer commuters Jeff, Andy and Danny.
Get Higher Gear customer tips for commuting to work.
Need extra motivation to ride your bike to work?
15 May – 4 September: Summer Night Bicycle Racing at the Velodrome
Northbrook, IL

Thursday night racing series at the Ed Rudolph Velodrome.
15 May: Thursday Night Racing Series Opening Night
22 May: Cat 5 Thursday Race Night
5 June: Cat 5 Thursday Race Night
19 June: Cat 5 Thursday Race Night
3 July: Cat 5 Thursday Race Night
5 July:* IL State Masters Track Championship
4 August:* IL State Elite Time Championships
5 August:* IL State Elite Time Championships
7 August: Roger DeLanghe Trophy Race
14 August: Cat 5 Thursday Race Night
21 August: Elaine Nekritz Trophy Race
28 August: IL State Points Championship Race
4 September: IL State Madison Championships
11 September: Season Finale
Read about Higher Gear's own Catherine Watkins and her successful 2013 season at the track.
16 May: Bike to Work Day
Nationwide
Sponsored by the League of American Bicyclists, National Bike to Work Day is an opportunity to celebrate the unique power of the bicycle and the many reasons we ride.
Get it in to Higher Gear for a Tune-Up, so you're ready to ride on Bike to Work Day!
17 May: Elgin Cycling Classic
Elgin, IL
18 May: Fox River Grove Criterium
Fox River Grove, IL
Part of the Pavé Liga series.

21 May: Ride of Silence
Nationwide
At 7:00 PM, the annual Ride of Silence will begin in North America and roll across the globe. Cyclists will take to the roads in a silent procession to honor cyclists who have been killed or injured while cycling on public roadways. Although cyclists have a legal right to share the road with motorists, the motoring public often isn't aware of these rights, and sometimes not aware of the cyclists themselves. Join cyclists worldwide in a silent slow-paced ride (max. 12 mph/20 kph) in honor of those who have been injured or killed while cycling on public roadways.
24 May: Snake Alley Criterium
Burlington, IA
The Snake Alley Criterium is part of four days of great racing in Eastern Iowa and Western Illinois over Memorial Day weekend. Snake Alley is held on a fifteen block course, with differences in elevation from 555 feet to 678 feet. The course is entirely on city streets, mostly in a downtown commercial area. A one block long climb is on the historic brick street named Snake Alley, dubbed "the crookedest street in the world." The 276 foot long Snake Alley has 5 switchbacks in a sixty foot climb. The average grade is 12.5 percent in that one block. This is one of the most physically challenging races in the Midwest and most visually spectacular to spectate.
25 May: MB Financial Bank Bike the Drive
Chicago, IL
Hop on your bike the one day of the year when the length of Lake Shore Drive is open to cyclists and closed to auto traffic. Enjoy the striking skyline and the shimmering water of Lake Michigan as you cruise up and down the entire length of Lake Shore Drive.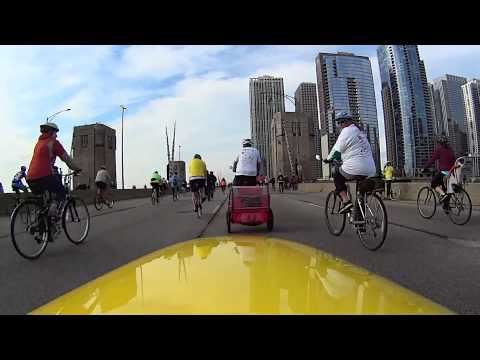 31 May: 7th Annual Glencoe Grand Prix
Glencoe, IL
The Glencoe Grand Prix (GGP) has plenty of good things in store. The GGP is the seventh stop on the National Criterium Calendar (NCC) and the USA CRITS calendar, bringing riders from all over the U.S. to compete for overall individual and team titles. GGP is proud of its association with these long-running and well-respected USA Crits Series. This race is certainly one of the best one-day races in the U.S. In addition to hosting the IL State Criterium Championship, there will be all the fixings to pair with a great day of racing including food, live music, games for the kids, a beer tent and the traditional noon kid races. The after party will feature refreshments from Goose Island, several food trucks and a repeat performance by 16 Candles. This is not to be missed! The GGP is part of the Pavé Liga series.
June 2014 Cycling Races, Rides & Events

1 June: Udder Century Invitational
Union, IL
An udderly good time pedaling along flat to rolling rural routes of 32, 50, 62, 75 or 100 miles through the dairy land of northern Illinois and southern Wisconsin. Take breaks along the way at strategically places rest stops and afterwards enjoy a gourmet pasta dinner in the cow-lossal banquet hall.
Higher Gear customer Glenna Lampner tells us: "A century is a party. It's a party and they're feeding you."
6-8 June: Tour of Galena Omnium Stage Race
Galena, IL
Top bike racers from across the Midwest will converge on Galena this weekend for the annual trifecta of Tour of Galena races. The weekend includes three races – a time trial, a road race and a criterium – that showcase the area's famous beauty and sporting spirit. For this year, the omnium will part of the Pavé Liga series
Think you're too old to try racing? Higher Gear customer Kiki Demopoulos found the Fountain of Youth on her bike.
8 June: Honor Ride
Skokie, IL
Help injured and healing Veterans, through cycling, at the 1st ever Honor Ride Chicago. Developed by Ride 2 Recovery, and sponsored by Evanston Subaru in Skokie,the Honor Ride provides a life changing experience for our healing heroes returning from war. Participants choose one of three distances to ride: 16, 38, and 48 miles with fully stocked rest stops an SAG support. Registration includes: a goodie bag, tek shirt, a finishing medal. Post-ride, enjoy a free lunch catered by Village Inn Skokie and entertainment from renowned military entertainer, Joe Cantafio. Honor Ride Chicago will provide the cycling community of the greater Chicago area with an unforgettable experience.
Is your bike ready to go the distance? Or is your "check engine" light on?
8 June: 32nd BCLC Ramble
Wilmot, WI
This is a recreational ride, pedaling its way over rural roads which traverse the scenic lakes region of northeastern Illinois and southeastern Wisconsin, sponsored by the Bicycle Club of Lake County. Routes are 30, 50, 70 and 100 miles. The terrain is flat to rolling with a few roller-coaster hills and a challenging climb or two thrown in. Riders of all capabilities are encouraged to participate and enjoy the scenery, good food, and fellowship offered at the ride.
13-20 June: Chicago Bike Week
Chicagoland
As part of Bike Chicago 2014, Chicago Bike Week is week-long celebration of cycling that culminates at the Bike to Work Rally; a high-octane gathering of thousands of bike enthusiasts in the heart of downtown Chicago's Daley Plaza. The Rally features complimentary breakfast for bicyclists, complimentary bike valet and organizations and businesses offering a range of information and services for the biking community. Check out all the exciting events.
Get tips from Higher Gear commuters to get your bike ready to ride for Chicago Bike Week.
Before you bike downtown, pothole proof your bike.
14 June: Horrible Hilly Hundreds
Blue Mounds State Park, WI
Three routes, two county tours, one result: a painfully fun, must-do biking experience destined to find its way onto your June calendar for years to come. Since 2003, Horribly Hilly participants have enjoyed a day of riding that results in an awe-inspiring accumulation of 10,000 feet of elevation gain in the Driftless Area of Wisconsin. Growing in popularity each year, the Horribly Hilly registration has moved to an annual lottery system to accommodate the swelling number of interested riders. 2012 marked the 10th anniversary of the Horribly Hilly Hundreds. Once voted the "Sufferfest of the Year" by Madison weekly newspaper Isthmus, "The Toughest One-Day Challenge Ride in the Midwest" is not to be missed by serious riders anywhere. How hard do you want to push it? Choose between the 100K, 150K, and 200K routes. The day is capped with a meal featuring quality local food and beer.
Meet Higher Gear's own Sheila Wilson, who rocks the Horribly Hilly Hundreds.
19-29 June: Tour of America's Dairyland
Various cities throughout WI
High energy cycling action featuring the best of pro and amateur racers from around the world sponsored by Wisconsin Milk Marketing Board. In addition to cycling, each city will have FREE live entertainment, safe family activities, merchant sidewalk sales and great food, making the TOADs a popular summertime event.
Thursday, 19 June: Shorewood Criterium Cycling Classic (Pro & Cat2/3 only), Shorewood, WI
Friday, 20 June: East Troy Cycling Classic (Criterium), East Troy, WI
Saturday, 21 June: Giro d' Grafton (Criterium), Grafton, WI
Monday, 23 June: TBD
Tuesday, 24 June: Schlitz Park Criterium, Milwaukee, WI
Wednesday, 25 June: Elkhart Lake Road Race at Road America, Elkhart Lake, WI
Thursday, 26 June: Oshkosh Criterium de Titan (Oshkosh, WI)
Friday, 27 June: Commonwealth Classic (Criterium), Fond du Lac, WI
Saturday, 28 June: ISCorp Downer Classic (Criterium), Milwaukee, WI
Sunday, 29 June: East Tosa Gran Prix (Criterium), Wauwatosa, WI
20-21 June: WBR Brickyard Challenge
Have you ever wanted to have a guided tour of the Zipp Wheels factory? Ever wanted to have an officially timed cycling event at the Indianapolis Motor Speedway? Interested in helping women and aid workers in Africa at the same time? The WBR Challenge is for you! The American Diabetes Association, WBR and the Colavita Time Trial Series have teamed up to bring you the WBR Brickyard Challenge This event is held in conjunction with Tour de Cure-Indiana; you must be registered for the charity event to participate.
Meet Joshua Kline, World Bicycle Relief (WBR) ambassador and captain of Team WBR Indiana.
Meet one family who saw the power of bicycles, through World Bicycle Relief, made real.
21 – 22 June: Bike MS: Tour de Farms
DeKalb, IL
Be a part of Bike MS: Tour de Farms and get ready for the ride of your life. Whether you're new to Bike MS or ride every year, together we will raise money, have fun, and make a difference in the lives of people living with MS. The Greater Illinois Chapter offers two days of rides, ranging from 15-200 miles, each offering a combination of beautiful scenery, outstanding people and of course, a great cause. Whichever day you choose to ride, it will be the most rewarding journey you'll ever make. Ordinary people, just like you, are taking extraordinary challenges to make this a world free of MS. Are you up for the challenge?
Meet a Higher Gear customer and Tour de Farms fundraiser, Chad Smith.
21 – 22 June (Saturday night-Sunday morning): Friends of the Parks' L.A.T.E. Ride
Chicago, IL
Join up to 9,000 bicyclists for a 25-mile ride through Chicago's neighborhoods and along the lakefront. Cycle past skyscrapers, hear shout of "Opaah!" in Greek Town, cruise through the North Side, wave to onlookers, and watch the sun rise over Lake Michigan. Plus, you'll enjoy music before the ride, sponsor booths to explore, refreshments before the ride and at the rest stop, and great food and beverages after your trek through the city. "Chicago is a city of neighborhoods." You'll experience many exciting and distinctive neighborhoods during Friends of the Parks' L.A.T.E. Ride!
Get it in to Higher Gear for a Tune-Up, so you're ready to ride!
22 June: 45th Annual Swedish Days Ride
Burlington, IL
The Swedish Days ride remains one of the premier road bike tours held in the Chicagoland area. Tour the beautiful, scenic, paved back roads of Kane County. The terrain is mostly flat, with the occasional hill. Along the way enjoy frequent rest stops stocked with thirst-quenching beverages and energizing food; including various selections of fruits, breads, and homemade cookies. Routes are 27-Miles, 45-Miles, 62-Miles, 80-Miles, 100-Miles and 124-Miles.
27 – 29 June: 2014 ITU World Triathlon Series Race
Chicago, IL
While not a cycling event, there is certainly cycling involved in triathlon. Also, cyclists should know it may alter routes and rides with the influx of people in town for the event. But mostly, you should know about it because it's a pretty big deal. Chicago will welcome the world's top Olympic-distance triathletes as one of the stops on the World Triathlon Series and in 2015, will host the ITU World Triathlon Grand Final.
Thinking about triathlon? Meet a Higher Gear customer who encourages you to "tri."
28 – 29 June: GITy Up!
Rock Island, IL
(New location/route for 2014: Quad Cities) GITy Up! is bite-sized, overnight bike touring on the Great River Trail along the Mighty Mississippi in western Illinois, from Rock Island to Port Byron and the communities and forest preserves along the way. Inspired by the 450-mile Grand Illinois Trail, GITy Up! is a single overnight, supported bike tour for beginning bike campers, for families, for the expert with restless legs but only a weekend free. Choose 40 miles or 18 miles (good choice if you're pulling tots in a trailer) of trail-based bike touring spread out over two days and a glorious evening of camping in between. It's crazy healthy happy fun!
July 2014 Cycling Races, Rides & Events

2-6 July: USA Cycling Amateur & Para-cycling Road National Championships
Madison, WI
The roads in and around Wisconsin's capital city will play host to some of the country's most competitive bike racing when the Amateur & Para-cycling Road Nationals head to Madison. Juniors, U23 and elite riders will all vie for Stars-and-Stripes jerseys in the road race, time trial and criterium.
12 July: Women's Track Cycling Clinic
Northbrook, IL
Ladies, interested in learning how to ride a track bike or race on the Velodrome? This summer, the Ed Rudolph Velodrome in Northbrook is offering two women's clinics. This, the second of the two clinics, will continue from where the May 3rd clinic left off.
Read about Higher Gear's own Catherine Watkins and her successful 2013 season at the track.
12 July: Winfield Criterium
Winfield, IL
An evening of professional and amateur racing followed by a party in the park for non-stop excitement. There will be food, drink and entertainment for racers, spectators and visitors. Proceeds from the event will be donated to the Advocates of the Winfield Riverwalk and a portion of each entry fee to be donated to Special Olympics.
13 July: Biking with Beanzie
DeKalb, IL
This recreational ride consists of primarily flat rural roads with some rolling terrain with estimated ride options of 25, 46, 62, 80 or 101 miles. There are also 3, 5 and 8-mile family/community bicycle pathway routes. All ride routes are provided with rest stops and water stops, regardless of the length of the route chosen. BWB is a "family" event that promotes fitness and family fun. Profits from this ride go to support the Kishwaukee Bike Pathway Projects and other projects within DeKalb County.
18 – 27 July: Prairie State Cycling Series
Various cities throughout Illinois
The Intelligentsia Cup Prairie State Cycling Series is returning in 2014 with plenty of racing around Chicagoland. For 2014, the series was awarded the honor of being included in the USA Cycling National Criterium Calendar (NCC). The Intelligentsia Cup Prairie State Cycling Series is a series of crits and road races in the greater Chicago area. It will include a one-day NCC event for men and women on Saturday, July 19, 2014, in Lake Bluff, Ill., on Chicago's north shore.
Friday, July 18th: Vista Health System Waukegan Criterium, Waukegan, IL
Saturday, July 19th: Northwestern Medicine Lake Bluff Twilight Criterium & Block Party, Lake Bluff, IL
Sunday July 20th: Tour de Crystal Lake presented by Visit McHenry County, Crystal Lake, IL
Wednesday, July 23rd: Willow Springs Road Race, Willow Springs, IL
Thursday, July 24th: 12th Annual Beverly Hills Cycling Classic, Chicago/Beverly, IL
Friday, July 25th: Superior Ambulance Elmhurst Cycling Classic (part of the Pavé Liga series) – Elmhurst, IL
Saturday, July 26th: Chicago Criterium, Chicago, IL
Sunday, July 27th: Downers Grove Criterium, Downers Grove, IL
Think you're too old to try racing? Higher Gear customer Kiki Demopoulos found the Fountain of Youth on her bike.
20 July: Ride Ataxia
Channahon, IL
Appealing to all levels of cycling abilities, Ride Ataxia Chicago will include 4, 12, 32, and 52 mile route options with a meal provided by Outback Steakhouse, Carrabba's Italian Grill, and Bonefish Grill after the ride. Enjoy beautiful rural Chicago river views and delicious food while raising money for FARA, a nonprofit organization dedicated to research and a cure for Friedreich's Ataxia (FA), a debilitating, life-shortening, degenerative neuro-muscular disorder. Registration includes T-shirt (guaranteed if registered by June 22nd), Strong SAG support, rest stop food and delicious lunch provided by Outback Steakhouse.
20 – 26 July: RAGBRAI XLII
From Rock Valley to Guttenberg, Iowa
The Register's Annual Great Bicycle Ride Across Iowa is an annual seven-day bicycle ride across the state. It is the oldest, largest and longest bicycle touring event in the world. The route averages 468 miles and is not necessarily flat. It begins along Iowa's western border on the Missouri River and ends at the eastern border on the Mississippi River. The people of Iowa truly make RAGBRAI a special event by opening up their towns and communities to participants. You are invited to enjoy this Iowa hospitality and a memorable trip across the state.
Higher Gear customer Dr. Tony Breitbach takes his touring bike on the road – through Iowa and beyond!
August 2014 Cycling Races, Rides & Events

2 August: Gran Fondo Hundo presented by Higher Gear
Wilmette to Geneva, IL
You and 99 of your friends will ride one-way from Higher Gear-Wilmette to the Kane County Cougars' stadium, the Fifth Third Bank Ballpark, in Geneva, IL. Rest stops will be provided along the route. Upon completion of the ride, you'll be treated to hot showers and a tasty BBQ. Riders will enjoy a country music-themed evening at the ballpark including a concert before the baseball game. The evening will conclude with post-game fireworks before you are transported back to Wilmette where you will meet up with your bike. Registration to this event is extremely limited; you're encouraged to register early so that you don't miss out.
2 – 4 August: CowaLUNGa
Gurnee, IL
Participate in a 190-mile cycling challenge to support lung cancer research, kids with asthma and clean air! The three-day tour covers a route between Gurnee, IL, and Hubertus, WI, with beautiful places to visit, eat and rest along the way. Riders have the option of biking 18 miles or for one, two or three days of the tour.
3 August: Two Rivers Century
Kankakee, IL
An enjoyable one-day ride in Kankakee County along two scenic Illinois Rivers. In addition to the two rivers, riders will also see downtown Kankakee, Kankakee Community College, The Shapiro Clock Tower, barn quilts, two Frank Lloyd Wright homes, border town Momence and its "Island Park", buffalo, Watseka, one of the largest and oldest wood frame churches in IL, corn, beans and more! Six distance options: 22, 47, 62, 80, 100 and 124 miles.
Higher Gear customer Glenna Lampner tells us: "A century is a party. It's a party and they're feeding you."
9 August: Venus de Miles
Lake Forest, IL
Voted Best Cycling Event (tied with North Shore Century) by Competitor Magazine in its first year, Venus de Miles is back. The ride is a lot of things – Northern Illinois' first all-women's road ride, a celebration of sisterhood, support for Greenhouse Scholars, and crazy fun – but one thing it's not is a race. So, don't be afraid to walk your bike up that hill, stop to listen to a band, and, most importantly, enjoy yourself. Join us for our second year and put your pedal to the mettle. Venus is for all skill levels and features four courses to accommodate any rider – novice or seasoned. Rides will be in the 30- and 60-mile range. This ride isn't about setting a good time, it's about having one.
9 August: Dairyland Dare Grand Fondo Wisconsin
Dodgeville, WI
Set in southwest Wisconsin, the land untouched by glacial flattening, the Dairyland Dare Gran Fondo Wisconsin offers some of the most extreme hills in the midwest. Pick from 6 chip timed one day challenges: 50K, 100K, 150K, 200K, 250K, or 300K. Stage 3 of The Wisconsin Triple Crown – Endurance Cycling Series.
Meet Higher Gear's own Sheila Wilson, who rocks the Dairyland Dare.
17 August: Bike Psychos Century XXX
Coal City, IL
Follow the historic I&M Canal Corridor over scenic country roads along the Illinois River. It's all the parts fitting together that make a great ride! We have a great route, friendly staff, fabulous fresh food, awesome SAG drivers, bottled water, and lots of fun. A classic ride with a bike club celebrating over 30 years.
Higher Gear customer Glenna Lampner tells us: "A century is a party. It's a party and they're feeding you."
September 2014 Cycling Races, Rides & Events

6 September: Cracking the Code – Cyclocross Mini-Camp
Chicago, IL
Spider Monkey Cycling and SRAM invite you to a Cyclocross Mini-Camp with Meredith Miller and Pete Webber. This camp is best for riders with some cyclocross racing experience. But don't be intimidated, cyclocross beginners are welcome and you don't need to be a speedster to enjoy this camp. Riders will be divided into groups based on ability.
7 September: Sub-5 Century
Hampshire, IL
The annual Sub-5 Ride for Parkinson's is a life-changing event for those who take pride in their personal accomplishment and create hope for those afflicted with Parkinson's disease. If you're a serious road cyclist there are 2 options for you to participate in our 5th Annual powerhouse event raising funds for cutting-edge Parkinson's research. The featured event, is a timed, 100-mile ride. Competitive cyclists are challenged to participate in teams to complete a 100 mile course in less than 5 hours. The course record of 4 hours, 29 seconds was set by Mike Peters in 2013. For serious cyclists who enjoy riding in smaller groups or alone, this year's event also features a Timed Metric Century (62 Miles). The Sub-5/62 also offers shorter distances for those who wish to support our efforts on behalf of Parkinson's and are more casual riders.
7 September: Harmon Hundred
Wilmot, WI
This is an annual non-competitive scenic ride through southern Wisconsin. Ride options of approximately 25, 50, 62, 75 and 100 miles on quiet country roads.
14 September: North Shore Triathlon
Wilmette, IL
Back for its second year, the North Shore Triathlon once again brings triathlon close to home with a stunning, sprint-distance course through the beautiful Wilmette, Winnetka and Kenilworth neighborhoods of the North Shore. If you're looking for a local race that is fast, flat, and fun, you've found the race for you! There's a relay option as well as volunteer opportunities.
Thinking about triathlon? Meet a Higher Gear customer who encourages you to "tri."
20 September: Bike Winnetka
Winnetka, IL
Back for its third year! Bike Winnetka is a an event that will take cyclists of all ages through scenic Winnetka. Cyclists are expected to maintain an average pace of 8mph during the entire 7.9-mile ride, approximately one hour. There's a 2-mile option for young riders (under a 20″ wheel) and their parents. Suggested for third graders and under. Children must be with an adult. No training wheels will be allowed.
Get it in to Higher Gear for a Tune-Up, so you're ready to ride!
21 September: North Shore Century
Evanston, IL
The North Shore Century offers incredibly scenic biking. You'll experience luxurious neighborhoods, view unique architectural treasures, pedal down tranquil tree-lined streets and feel the refreshing breezes of Lake Michigan. Open it up in the flat to rolling countryside between Chicago and Wisconsin. The 100-mile ride is what this event is famous for. For those looking for a more leisurely day out on the bike with the opportunity to see some of the most architecturally impressive homes, choose from 70-, 62-, 50- or 25-mile rides.
Read Higher Gear's own Joy Sherrick's experience at the 2013 North Shore Century.
21 September: Pedal for PADS
Lake in the Hills, IL
Pedal for PADS is an annual bike-a-thon devoted to supporting P.A.D.S. of McHenry County. This year, the event will be held at beautiful Larsen Park, Lake in the Hills, Illinois and continue along the McHenry County Prairie Trail. The ride will span 36 miles for advanced riders (18out and back) with mile markers at each mile. Younger and less experienced riders will have shorter options. All participants are encouraged to collect pledges to help raise more money for homeless services through McHenry County PADS.

28 September: Apple Cider Century
Three Oaks, MI
Apple Cider Century (ACC) is an annual one-day 15, 25, 37, 50, 62, 75 or 100 mile bicycle tour of the orchards, forests and wine country in and around Three Oaks, Michigan. It is a recreational and social tour for bicyclists.
Higher Gear customer Glenna Lampner tells us: "A century is a party. It's a party and they're feeding you."
28 September: Blood, Sweat & Tears Charity Bike Ride
Highland Park, IL
For cyclists of all abilities, the Blood Sweat & Tears Charity Ride is the Leukemia & Lymphoma Society's premier fundraising charity ride set along the beautiful backdrop of Highland Park, IL and surrounding communities. Proceeds from BST benefit LLS's mission: to cure leukemia, lymphoma, Hodgkin's disease and myeloma and improve the quality of life of patients and their families. This charity ride offers 5, 22, 52, 68 and 103 mile routes with fully supported rest stops. Registration includes a light breakfast and beverages, fully stocked rest stops, SAG support, a finisher medal and meal after returning from your ride.
28 September: Bike the Ridge
Evanston, IL
Bicycles are not allowed on Ridge Avenue at any other time, so come out and enjoy this non-competitive, City-sponsored special event! Ridge Avenue will be closed to vehicular traffic so bicyclists may ride on a 2-mile stretch of Ridge Avenue, from Howard Street to Church Street. The event kicks off at 9am at the intersection of Ridge Avenue and Howard Street. Children are encouraged to decorate their bikes in advance. Activities will be held along the route. Non-bicyclists are encouraged to walk along the sidewalks of Ridge Avenue and support the bicyclists. Bike-related activities are plentiful.
Get it in to Higher Gear for a Tune-Up, so you're ready to ride!
Gone, But Not Forgotten
Noticeably absent from the 2014 calendar are several annual rides including:
Quadrupedal, Harvest Ride, Arcadia's BRUTE, Kickapoo Kicker and Wisconsin Triple Crown. These races are cancelled (hopefully to return again) due to a proposed ordinance in Dane County, WI, where all of these rides pass through.
The Tour of Elk Grove, a three-day, multi-stage race that is cancelled for 2014 due to scheduling conflicts in the USAC and ICU's calendar.
The Wrigley Field Road Tour is cancelled for 2014 due to potential stadium construction at Wrigley Field.
We look forward to all of these rides returning for the 2015 cycling season. When they are, we'll let you know about it here.
Higher Gear hopes you have a great summer of riding! Don't get on your bike without a proper cycling helmet, cycling glasses and your Road ID. And always use sunscreen!
Whether you're racing, riding in a charity event or taking the bikes out for a ride with the family, be sure your bike is in working order.
Get it in to Higher Gear for a Tune-Up, so your bike is ready to ride when you're ready to ride!