We all know the poem with the two roads diverging in a wood. That poor guy had to pick just one, but with the new Specialized Diverge, you can KOM the well-trodden path and then switch gears to explore the one less traveled, all in one glorious afternoon, on one glorious bike.
Not sure where your ride will lead to today? From urban pavement to loose gravel, the new Specialized Diverge is seriously fast and shockingly fun. It's as at home tackling urban tarmac as it is riding rustic trails, thanks to enhanced handling.
Peter Sagan knows. Check it out!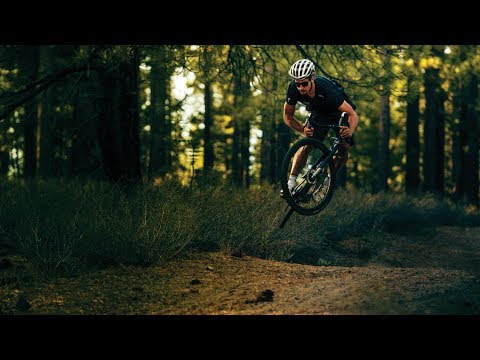 Shockingly Fast. Seriously Fun.
While the fun might start where the road ends, you still need a bike that'll get you there—one bike that shreds gravel and dirt and crushes through road miles with equal expertise. Sure, some have tried to make their 'cross bikes more "road-capable" (whatever that means), and others have made their road bikes more "adventure-ready," but Specialized has created one bike that makes no compromises between the two. Meet the all-new Specialized Diverge.
Future Shock w/ Progressive Spring
The Future Shock technology on the new Specialized Diverge helps you to better handle a variety of roads, from jerky gravel to distressed tarmac. It also enables you to descend with speed, dexterity and confidence without compromising climbing responsiveness.
"Perhaps one of the best features of the Future Shock was how it could soak up hits while I was out of the saddle on unpaved trails and paths. Rocks and holes were much less likely to upset my rhythm, so I could maintain my momentum. It was perhaps the most convincing example that 'smoother is faster'" – CyclingTips.com
With the Diverge, Specialized introduces the off-road version of their Future Shock technology. Specially tuned with a stiffer spring rate for rough roads, this Future Shock gives you the feeling of floating over harsh terrain and of being glued to the tarmac on windy descents.
This Future Shock not only soaks up bumps with ease, but it also adds the benefit of extremely predictable handling. Because the shock isn't mounted in the frame or fork, the wheelbase isn't lengthening when you hit a bump, keeping the front end of the Diverge at the same effective head tube angle. In other words, when you dive hard into a turn, you won't be surprised by under steer or sloppy handling.
Unlike the Future Shock found on the Roubaix, this version features a Progressive Spring that makes it more suitable for off-road applications, where stiffer suspension is often needed to soak-up larger bumps and obstacles.
Open Road Geometry
Specialized has moved away from a traditional 'cross geometry in the Diverge, instead opting for a new Open Road Geometry. This updated geometry features a lower BB, a slacker head tube and shorter chainstays. Now the Diverge is capable of crushing both dirt and road with confidence.
You can think of this updated frame as a road version of modern trail bike geometry. It provides playful handling and predictable steering for endless dirt skids and mid-corner drifts. The geometry features a bottom bracket that's over a half-centimeter lower than the previous Diverge, too. Specialized also slacked-out the head tube angle, shortened the chainstays, and made a shorter wheelbase.
All these changes add up to a bike that performs equally well over both the dirt and road.
Ready for Anything
The Diverge is now more capable than ever. It's equally as suited for a fast ride with the gang as it is for gravel grinder with fully loaded frame bags. With clearance for up to 700x42mm or 650bx47mm tires, Plug + Play fender mounts, rack mounts and SWAT/ dropper post compatibility, the only thing limiting your ride is your imagination.
"You've got yourself a veritable do-all weapon." – GranFondo-Cycling.com
Ride Outside the Box
The Diverge doesn't fit neatly into one box, but we guarantee it will fit your lifestyle. Whether you're heading out on the road or off to blaze new trails in the woods (or a little of both), the Specialized Diverge is always ready for a good time.
Yes, it's tough. It's versatile. It's fast. But, first and foremost, the Diverge is fun.
"A great all-rounder that doesn't stop — road or not." – CyclingWeekly.com
The new Specialized Diverge delivers dependability for diverse roads, from smooth tarmac to loose gravel. Stop by Higher Gear today to learn more!
Shop Higher Gear online now for the all new Specialized Diverge Comp >>
Diverge: a bike that makes our Bike of the Month list twice in only a few months >>
Reminisce with us about the first generation Diverge >>
More on bikes built to go anywhere >>