The Tarmac doesn't do one thing well; it does everything exceptionally—which is why it's been ridden to victory in all three Grand Tours.
The Tarmac's advanced materials add a modern edge to the lively character of a classic race bike, while its Rider-First Engineered design ensures that the Tarmac can handle sprints, corners and descents with uniform excellence across every frame size.
What is Rider-First Engineering?
The Rider-First Engineered philosophy is a size-specific approach to frame construction that grew out of Specialized's partnership with McLaren, the leaders in Formula 1 development. It ensures that every frame performs flawlessly. This is achieved through a mix of extensive data acquisition, expert feedback from professional riders, and a meticulous approach to carbon construction.
Rider-First Engineering begins and ends with the Rider; each of the seven frame sizes was developed independently, based exclusively on the real-world stresses introduced by the corresponding rider. For the first time in any bicycle, now the riding experience and performance of each size rider will be the same.
Learning from McLaren's advanced testing approach, Specialized developed industry-first simulation models and dynamic testing protocols that gave engineers an unprecedented ability to understand exactly how various sized bicycles respond to stresses. This data allowed Specialized to engineer frames that take into account the most important element on a bike — the rider. As a result of this new understanding, Specialized engineers were able to identify specific performance targets for each of the seven frame sizes and then engineer each independently to achieve the discrete performance targets.
Check out Peter Sagan's Specialized Tarmac, which makes an appearance in this video leading up to the Spring Classics going on right now: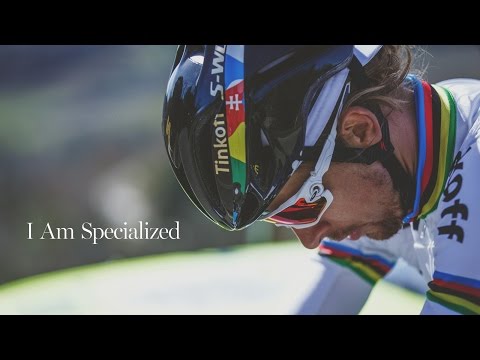 Bicycling Magazine's Mike Yozell had this to say about the Rider-First Engineered Tarmac: "It's undoubtedly one of the best bikes I've tried." He also shared:
It seemed significantly smoother and clung to the ground in high-speed turns better than the SL4. I felt instantly comfortable, and that gave me enough confidence to dive into unfamiliar corners without using the brakes to check my speed. And when I needed to adjust my line, the bike changed direction quickly and with little loss of momentum… Like the previous version, the 54cm test bike I rode had excellent straight-line power transmission and it sprang ahead when I sprinted. Climbing while seated felt comfortable and efficient.
2016 Tarmac Sport
Don't want to go all in just yet? The Tarmac Sport is a bike that can grow with you as you explore the sport and the open road. It boasts Specialized's Tour de France-winning pedigree with a FACT-carbon frame and fork, which let you fly down sweeping descents and float up climbs like the best of them. It will only take one ride for you to appreciate the incredible combination of feathery low weight and ripping power transfer that's evident whenever the road tilts skyward or your friends pick up the pace.
The Tarmac platform is coupled here with Shimano's tremendously valued 11-speed 105 groupset for conquering any ride. Easy-rolling Axis wheels are good for oodles of speed. Plus, the Tarmac comes with strong, dual-pivot brakes for maximum control and a fine helping of Specialized's quality components.
Shop Higher Gear online now for the 2016 Specialized Tarmac Sport >>