Go, go, go! It's all about the hustle—in work and in play. You have your commute to crush, errands to check off and a social life that fills up every hour of your weekend.
The "pedal-assist" Turbo Vado is the perfect wingman to your hectic schedule, giving you the power to go farther and faster and to keep fit while doing it. Yours is a busy life; you deserve a faster bike.
The Turbo Vado was made to accommodate busy lives that are always in motion. The Turbo Vado family is the next generation in Turbo technology, designed for urban riding, commuting, touring and fitness. Adding up to 350 watts of pedal-assisted, custom-tuned power to your ride, the Turbo Vado is designed to get you around your day-to-day life quicker than ever before.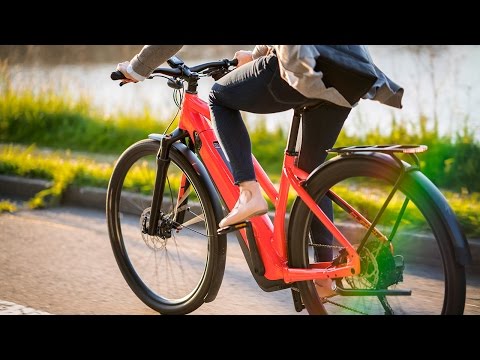 It's You, Only Faster
No matter if you're a seasoned rider or just starting out, Specialized's ebike technology is customized for you. You get a seamless, authentic experience, just with a little extra oomph.
Specialized's Turbo motors are the quietest, smoothest and most powerful bottom bracket motors in the world. They utilize integrated belt drives that take the edge off the planetary gear, while built-in freewheels ensure an elimination of resistance when you're riding above the legal speed limit.
But their compact, lightweight designs also benefit from a healthy dose of intelligence. Think of them as one part analog, two parts digital. True, there are a bevy of silent moving parts doing the heavy lifting (amplifying your input by up to 320%), but there's also complicated, custom software that senses the torque you're applying in each pedal stroke. This specially developed algorithm amplifies the power that you're putting in, or more simply: the more power you apply, the more power the motor puts out. It's not a one-trick-pony, though, as the algorithm also senses speed and cadence. And ultimately, this plays a huge part of the greater picture: customization over the motor characteristics.
Tuned for the Ride
For all Specialized's Motors, they extended the ideology of their tried-and-true Rx Trail Tune to the possible motor characteristics. This places an emphasis on customizing the motor tune in accordance to the intended ride experience, so you'll always get the most out of your ride.
The Rx Street Tune was designed with urban specificity in mind. The motor was tuned based on custom software that was developed upon thousands of tracked and analyzed test rides around Specialized's engineering office in Switzerland. They also placed an emphasis on heat management, which is why Specialized motors included special thermal pads inside the motor and between the motor and frame. This moves heat outside the motor to ensure the best possible performance in any situation.
And then there's the power. Specialized offers different 250-watt nominal power versions. The Specialized 1.2, found in the Vado 3.0, and the 1.2 S (28mph / 45 kph version), found in the Vado 6.0, motors are focused around hitting the perfect balance between power and efficiency to ensure maximum range.
Mission Control App
With the Turbo Vado Mission Control app, you're able to demonstrate total control over every facet of the battery and motor, as well as the ability to upload routes to get turn-by-turn navigation.
Specialized's Mission Control App gives you even more power over your rides, giving you turn-by-turn navigation, access to customizable route building that can automatically adjust your motor and battery output, the ability to upload and track rides and on-the-fly motor tuning to maximize your battery autonomy and to monitor system health. Honestly, it's a tiny sampling of what it can do, but the possibilities are endless.
There's also something we call the Smart Control feature that automatically adjusts the motor and battery output based upon your planned ride distance, time, or destination. It does this via a smart algorithm that recalculates the necessary parameters every 10 seconds, making range anxiety a thing of the past.
Mission Control also provides you with unrivaled motor customization opportunities. With Infinite Tune, Specialized put the power to determine how your motor works and reacts right in your hands. This feature provides unlimited customization opportunities by allowing you to adjust the assist level and max motor current for each mode individually.
Committed to Full Speed Without Worries
The Turbo Vado is all about helping you fit all the elements of your lifestyle— work, play and family time—into your hectic day. They say life is balance. It's time to find your balance with the Turbo Vado.
Looking for an extra boost to achieve a new riding goal? The new pedal-assist Turbo Vado is here to get you up to speed. Whether it's a long commute or keeping up with your friends, we found your silent partner to help you get things done. With up to 350 watts of pedal-assisted, custom-tuned power, the Turbo Vado is ready to get you where you need to go.
Contact us at Higher Gear to see which Specialzied Vado version is right for you.