One Bike. Yours.
Seven Cycles is synonymous with unparalleled quality, precision workmanship, design innovation, consummate strength and durability and comprehensive, handcrafted customization. And, of course, the ultimate riding experience for each Seven customer.
Seven Cycles is the largest custom bicycle manufacturer in the world, with more than 30 different bike models across several riding disciplines. Seven offers a wide variety of frame styles – high-performance road, touring, triathlon, criterium, track, cyclocross, mountain, suspension and tandems—in the customer's choice of stock or custom geometry.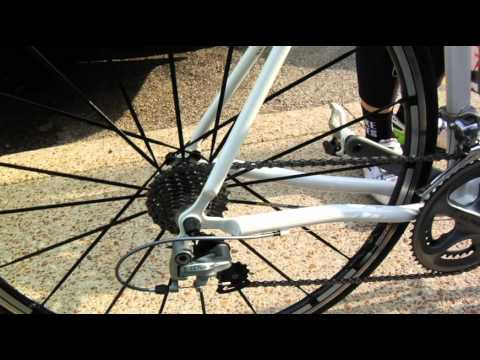 Seven's mission is to enhance YOUR cycling experience through the optimum fit, function, performance and comfort of your bicycle. Seven has built its business on understanding what you really want and value in a bicycle and delivering precisely that, accompanied by a level of service unparalleled in the industry. Every Seven employs the latest advances in materials technology and carefully considered, highly functional design innovations. And each Seven is backed by the experience and commitment of craftspeople, engineers, and professionals whose passion for excellence is matched only by their passion for cycling.
Now based in Watertown, Massachusetts, Seven Cycles was founded in 1997 by Rob Vandermark. Seven Cycles had its beginnings in a small core group of committed employees and has grown steadily. Seven's employees – which include designers, engineers, welders, machinists, painters and finishers – have built a company whose reputation for quality, craftsmanship, and service has resulted in a growing national and international market.
Join us on a tour of Seven Cycles in Watertown, MA >>
One of Seven's competitive advantages is in the manufacture of fully customized bicycle frames and accessories. While Seven does offer stock frames in more than 200 sizes, each are still built-to-order and a full 95 percent of the bicycle frames that Seven ships are completely custom. Customized elements include frame size, frame geometry, tubing diameters and wall thickness, and countless options such as cable routing, water bottle mounts, paint color and decal color. Every custom option is available at no additional charge and the number of combinations is virtually infinite.
Each frame's tube set, which is as important as the frame's geometry to ride quality, is chosen specifically for the rider. Seven handpicks each frame's tube set to get just the right combination of tube diameter and wall thickness to suit the rider's weight, riding style, intended use, age, and riding terrain.
Specifications for titanium tubes are determined and generated within Seven's manufacturing plant. For its steel frames, Seven chooses among tubes built by several manufacturers to increase our range of options and enable us to be as rider-specific as possible. (Most manufacturers offer tubes built by a single manufacturer.)
Although Seven Cycles was originally founded to build high-end titanium and steel frames, Seven now manufactures high-end bicycle frames from butted and straight-gauge domestically-sourced seamless 3-2.5 titanium, high-modulus carbon fiber, filament-wound carbon fiber and the world's finest steels.
A great bike isn't so much a matter of what it's made of as how it's made. Though myths still persist, simply knowing that a bicycle frame is titanium, carbon fiber, or steel will not tell you how it will perform. For each material, there are great bikes and not so great bikes.
At Seven, frame building demands a thorough understanding of each material's properties and strengths and leveraging them through innovative design engineering. Combine this approach with the absolute highest-quality materials and benchmark craftsmanship, and you have the makings of a truly great bike.
Titanium is the marvel of all the metals used for bicycle frames. It is the fourth most plentiful metallic element in Earth's crust. Titanium carries half the density of steel and half the stiffness. As a result, it has virtually the same strength-to-weight ratio. What is different is its elongation: how much it can bend before breaking. With roughly double the elongation of steel, on paper titanium looks indestructible. Titanium, like steel, can be built into a stiff or flexible frame, depending on the builder's (or customer's) taste, whereas with aluminum, a stiff frame is virtually required to give the frame a respectable life span.
Whether titanium, carbon, or steel, Seven frames benefit from the most sophisticated materials technology available. Seven's approach to developing tubing relies on carefully leveraging a material's strengths, while mitigating less desirable traits.
Consider their proprietary titanium tube butting technologies, which allow them to hold wall thickness variations to within 0.001″-less than the thickness of a human hair. While this might sound extreme, a deviation even this small can create a 5% difference in a tube's ride characteristics. Tolerances this tight are critical to controlling elements such as weight, stiffness, compliance, and durability. And unlike swaging, tapering, and internal butting, Seven's technologies do not degrade titanium's grain structure, and thus provide superior fatigue life for a given weight.
Seven's patent-pending carbon frame design and construction technology is truly groundbreaking. The design optimizes carbon's formability to produce the most innovative carbon frames available. Fully customizable, aerodynamic and lightweight – no other carbon frame offers as much.
But far beyond the cycling shorthand of carbon vs. Ti or heavy bike vs. light bike are universal characteristics like fit, ride quality and performance. Seven considers what the rider wants. Rather than building bikes and telling riders they need them, they ask riders what they need and then build bikes to match. It's an approach that has worked for them and their customers.
My Seven… it's a thing of beauty. Again, please accept my deepest thanks for all your assistance and to each of those that contributed in the making of it. You guys at Seven Cycles went 'above and beyond the call of duty'… for me, you have been the best example of what dealing with the customer is all about and that's not just in the biking industry. — Jack S., TX
[doptg id="13″]
On our Facebook page, you'll see some Seven Cycles that our Higher Gear customers have conceived. To keep up to date on our Seven builds as they arrive, like us on Facebook where we regularly post photos of cool bike builds. Now, what will yours look like? We'd love to help guide you through that process and make your dream Seven a reality.
Higher Gear is the North Shore dealer for Seven Cycles. Whether you're considering your first or third Seven, come see us to design a dream bicycle that celebrates who you are. Here's a summary of the process, showing how Higher Gear works with you and Seven Cycles' Performance Design Team to design a bike built just for you.
Several Higher Gear employees visited Seven Cycles at their home in Watertown, Massachusetts. We invite you to peak behind the curtain where all the magic takes place with us >>
Find out more about Seven Cycles and their design process on their website.
Need Help? Have Questions?
Wilmette | 847-256-2330