We stand behind the brands that we carry. Each brand – whether it be Seven, Specialized, Bianchi, Linus, Salsa or Sun – was selected to meet the needs of cyclists from the family cyclist to the triathlete and the weekend warrior to the racer. Discover the brand that will be yours.
A Note About our Brands
"Why do we carry the brands we do?" This was a question I asked when I first started working at Higher Gear. Over time, I would learn the importance of brand representation: the quality of product matched with the professionalism of a bicycle company's representatives in the field. But even before the respective companies' representatives could make their impressions, there had to be something a bicycle company brought to the table, something that made them who they are, something that made them a brand worth carrying.

Higher Gear stands behind each of the brands we carry because each enables us to offer quality products that meet the needs of the every kind of rider, from pro athletes, racers and triathletes to weekend warriors to family cyclists and casual riders. But that's obvious, right? Of course we offer brands we endorse!

So, why does Higher Gear carry the brands we do? Why Seven Cycles? Why Specialized? Why Bianchi? Why Linus? Why Salsa?

Each brand at Higher Gear has its own unique history. Each has made its own mark on the world of cycling. Each offers its own aura, its own mystique. I have tried to capture some of that on the following pages, detailing what it is that each brand brings to the table, what makes each brand unique, and why we at Higher Gear, have chosen to bring these brands to you.

Whether it's the quality custom builds of a bicycle made in the USA by Seven Cycles, the innovation offered by Specialized, a brand that has revolutionized the bicycling industry, the classic beauty that only the Italians can seem to capture in bicycles offered by Bianchi , the affordability, quality and style that come from Linus or the spirit of adventure captured by Salsa Cycles, Higher Gear has the right bicycle to fit your personality, your budget and your cycling needs.

~ Joy at Higher Gear
Choosing a Bike at Higher Gear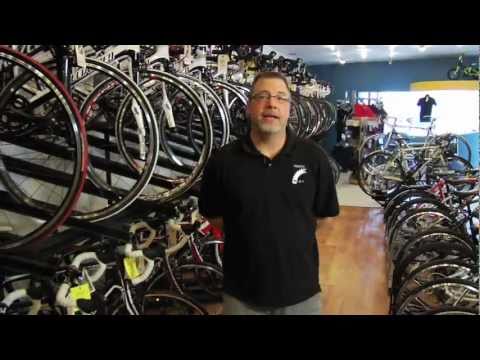 When you come to a bike shop, it can be a little intimidating to see all the different styles of bikes. So we're going to ask you a few questions to get started. First, what kind of riding do you do most? What's your budget? What type of bike is going to fit your personality? For the expert to the recreational cyclist, we have mountain bikes, all sorts of cool kids bikes, fitness hybrids, and multiple lines of road bikes including Specialized, Bianchi and custom Sevens. We also carry fun, multi-purpose bikes from Salsa, Surly and Sun. We have a variety of bikes here at Higher Gear. Come in and take one for a test ride!
Need Help? Have Questions?
Wilmette | 847-256-2330